By Anurag Kotoky
Fugitive Indian businessman Vijay Mallya has sought court approvals to sell some frozen assets worth 139 billion rupees ($2 billion), making a fresh attempt to settle bank dues owed by his now-defunct Kingfisher Airlines Ltd.
Mallya and his United Breweries Holdings Ltd. filed an application before a court in the southern Karnataka state on June 22, seeking permission to repay creditors from the proceeds of the sale, according to a statement on Tuesday. Accruing interest accounts for most of the dues because of restrictions imposed on disposals, according to the statement.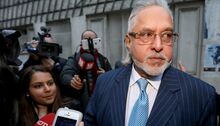 "I respectfully say that I have made and continue to make every effort, in good faith to settle with the public sector banks," Mallya, who now lives in the U.K., said in the statement. "If politically motivated extraneous factors interfere, there is nothing that I can do."
Mallya, 62, is fighting numerous lawsuits in the U.K. and his native country over fraud and money-laundering allegations after Indian lenders, under pressure from regulators to recover money from defaulters, have gone after the flamboyant former billionaire for unpaid debt of about $1.4 billion owed by his carrier that was grounded in 2012. Indian authorities have also sought his extradition.
---
The article was originally published in Bloomberg Quint.
Anurag Kotoky is an author at Bloomberg Quint.
---
Stay updated with all the insights.
Navigate news, 1 email day.
Subscribe to Qrius