By Nicholas Wadhams & Sharon Cho
President Donald Trump conceded that North Korea won't agree to immediately give up its nuclear weapons as he confirmed his June 12 summit with Kim Jong Un will go ahead.
In a scene that would have been difficult to imagine even a few months ago, Trump walked former North Korean spy chief Kim Yong Chol to his black SUV after meeting for more than an hour in the Oval Office on Friday. The two men posed for photos and waved goodbye before the U.S. president turned to the media to say he would go to Singapore for talks he had backed out of just a week ago.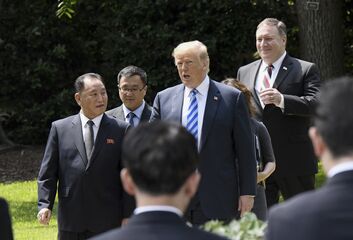 But the tone and goals for that historic summit now seemed more measured. Of possible achievements from the talks, Trump said, "We will see what we will see." And on the U.S. goal of securing immediate denuclearization: "I think it's going to be a process. But the relationships are building, and that's a great positive."
Gone was the rhetoric from last year, when Trump referred to Kim as a "Rocket Man" on a "suicide mission." He didn't mention the U.S. demand that North Korea give up its nuclear program. Asked about the vaunted "maximum pressure" campaign of sanctions enacted to rein in North Korea, Trump said "I don't want to use that term. Because we're getting along."
The U.S. has previously insisted that North Korea give up all its weapons before it can shed its pariah status or get any relief from sanctions. North Korea has bristled at the idea, and it's not at all clear the two sides will be able to bridge their differences enough for the meeting to be deemed a success.
"He's really walking back the high expectations" for the summit, said Sue Mi Terry, a senior fellow at the Center for Strategic and International Studies. Of Trump's attitude toward Kim, she said: "He thinks he will be able to charm him into giving up his nuclear weapons program."
Trump's talk of an open-ended process is a jarring shift from the speedy outcome that Secretary of State Mike Pompeo and other officials demanded when the summit was in limbo. Trump didn't say what he hopes to get out of the summit, nor did he talk about what the U.S. was prepared to give up, aside from musing about the possibility of a declaration ending the Korean War for good.
That's even as Defense Secretary James Mattis told a security forum in Singapore on Saturday the U.S.'s objective remained the "complete, verifiable and irreversible denuclearization of the Korean peninsula."
The man Trump met on Friday, Kim Yong Chol, had come to Washington after a day of talks with Pompeo. He was carrying a letter for Trump directly from Kim Jong Un.
While Trump said he hadn't opened the letter, he described it as "very nice." White House aides later confirmed that Trump had read the correspondence.
Japanese Defense Minister Itsunori Onodera told the Singapore forum on Saturday he was aware of reports Trump no longer planned "maximum pressure" on North Korea.
"I know that President Trump has said he won't lift sanctions until North Korea agrees to denuclearization," Onodera said. "I understand that the pressure will remain in place."
Japan has taken a cautious stance on the North Korea summit, concerned about easing pressure on a regime that only months ago was firing missiles over Japanese territory. Onodera warned against rewarding North Korea for "solely agreeing" to talks, and said Japan sought the removal of ballistic missiles of "all flight ranges" from North Korea.
South Korean Defense Minister Song Young-moo told the Singapore forum that Seoul held high hopes for the Singapore meeting.
"We believe the U.S.-North Korea summit will definitely succeed and the international community expects it will result in a historic agreement," Song said. "We are changing the course of history," he said. "We dream of a peaceful Korean peninsula, one without weapons or war."
After the New York meetings, Pompeo cited "real progress" but declined to discuss specifics. The lack of details served to highlight the tenuous nature of the rapprochement.
Trump had called off plans for a summit in a letter to Kim on May 24, complaining of "the tremendous anger and open hostility" in comments from North Korea. But he also invited the response he received Friday, writing, "If you change your mind having to do with this most important summit, please do not hesitate to call me or write."
In some ways, the open-ended picture Trump painted on Friday was a confirmation of what many analysts had long speculated — that he didn't have a concrete plan when he initially agreed to the summit in March, a spur of the moment decision made without consulting senior advisers.
Since then, administration officials have struggled to articulate what they see as the key objective of a summit, and some experts have expressed fear that Trump, lacking specific goals, would come away empty-handed.
One thing Mattis touched on was the question of the future of U.S. troops stationed on the Korean peninsula.
He said the issue was "not on the table" for the Singapore summit. Still, "obviously if the diplomats can do their work, if we can reduce the threats, if we can restore confidence-building measures with something verifiable, then, of course, this kind of issues can come up separately" with the government in Seoul, he added.
The task before Trump on June 12 is particularly difficult since never before has a country with a nuclear program as advanced as Kim's simply given it away.
"There is a risk that the process will break down and we can head back in the wrong direction," said Daryl Kimball, executive director of the Arms Control Association. "There is no precedent in nonproliferation history of disarming a nuclear program on this scale."
---
The article was originally published on Bloomberg Quint.
Nicholas Wadhams & Sharon Cho are authors at Bloomberg Quint.
---
Stay updated with all the insights.
Navigate news, 1 email day.
Subscribe to Qrius