People under 40 are far less likely to die from COVID-19.
In China, 15% of infected people over 80 died of the disease.
Big risk that socially active youngsters could infect the elderly.
The good news about COVID-19 is that children and young people appear unlikely to develop serious symptoms. The bad news is that it appears they can still carry the disease and pass it on to older people who have a much greater risk of dying from it.
This chart shows the death rate by age group of people infected with COVID-19 in China. People under 40 appear to have a 0.2% chance of death if they catch the virus, while for those over 80 the risk is 15%.
In countries where people are still allowed to mingle freely, this could mean that young adults – who are much more socially active than the elderly – could be unknowingly spreading the virus at a high rate, putting their grandparents' generation in peril.
Harvard public health scientist Eric Feigl-Ding raised the alarm on his Twitter feed, citing data on infection rates from South Korea which has been testing far more widely than, for example, Italy:
I'm NERVOUS again- about young adults. Korea's pop wide #COVID19 tests have revealed something scary: YOUNG PEOPLE are leading carriers. (Italy only tests the rather sick, biases to old people). If the socially active age20-29 truly carry 30% of all cases— that means trouble!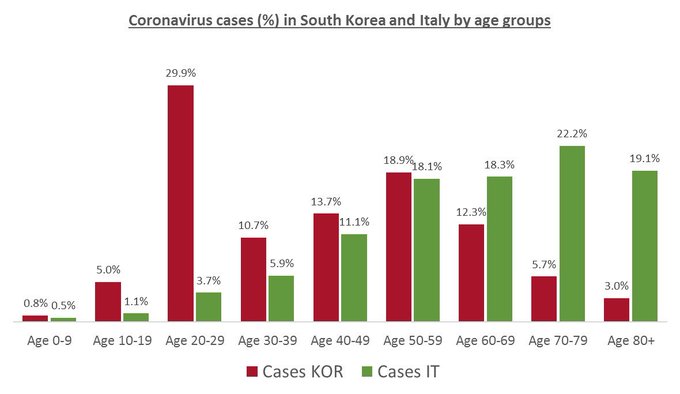 While most of those young people have a small chance of serious illness, they will be carriers of the disease.
"The issue is that young people are likely 10x more active and social than elderly and can infect 10x number of people (esp. if #COVID19 is mild and not noticed by young adults," Feigl-Ding tweeted.
5) …And while conquering the , #COVID19 will make its mild young carriers bring it home to grandma, grandpa, or their friends who have diabetes, heart disease, stroke, high blood pressure, asthma, COPD, cystic fibrosis, kidney disease— kill them along the way: as conduit to
6) So next time someone says "Oh don't worry, it's mild for young people" — explain that complacency and ignorance of this virus's true infectious reservoir of mild carriers — will actually spur on the outbreak more. #COVID19 has an epidemic doubling time of ~6 days. Do the math.1,64210:20 AM – Mar 15, 2020Twitter Ads info and privacy821 people are talking about this
Italy and Spain have followed the example of China's Wuhan provice – the epicentre of the outbreak – by imposing a 'lockdown': severe restrictions on people's freedom of movement, in an effort to slow the virus's transmission.
In the UK, which has so far taken a much lighter-touch approach, Health Secretary Matt Hancock said that, in the coming weeks, people over 70 will soon be asked to stay in their homes for "a very long time" – thought to be at least 12 weeks.
"We will stop at nothing to fight this virus and I think people have got the impression otherwise," Hancock told the BBC.
Our approach to tackling coronavirus is to be as clear and transparent as possible – because all that matters is getting this response right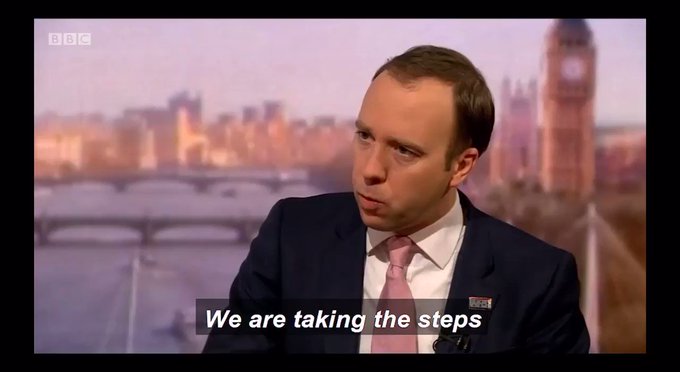 ---
Robin Pomeroy, Digital Editor, World Economic Forum
This article was first published in World Economic Forum
---
Stay updated with all the insights.
Navigate news, 1 email day.
Subscribe to Qrius