By Alastair Marsh Olga Kharif
The London clubhouse built for activists who helped redesign Britain's electoral system nearly two centuries ago offered a fitting setting for the crowd of technology entrepreneurs hoping to reinvent money.
Those gathered in the Reform Club near Buckingham Palace late last month were just a small part of a fast growing cohort of idealists and profit-seekers working feverishly on a new breed of digital currencies. Call them crypto 2.0. These coins should, as with Bitcoin, allow direct payments between two parties without meddling middle men or government oversight. Yet, unlike the original cryptocurrency, be stable enough to use in everyday transactions.
These recent iterations of digital money, known in industry parlance as stable coins, are the hottest craze in the world of crypto, with developers from San Francisco to Seoul racing to get projects to market. While the concept of a low-volatility cryptocurrency has been around since at least 2014, new stable coins are being created at breakneck speed with 120 projects now live or in development, more than half of which were started in the past year, according to Stable.Report, a website that tracks stable tokens.
Bitcoin, which was founded a decade ago by the mysterious Satoshi Nakamoto, has gained worldwide renown. Yet its wild price swings — it gained 1,400 percent in 2017 and is down 50 percent this year — have rendered it near unusable as a currency. The explosion in stable coin ventures is, in part, another attempt at creating electronic cash for transactions.
"Satoshi had a revolutionary philosophy of what money could be and stable coins are carrying the torch forward for that vision," said Ryan Kim, a Seoul-based entrepreneur working on a stable coin project called Xank who attended the event in London. "Bitcoin has become a speculative game and it's just too volatile to use for commerce."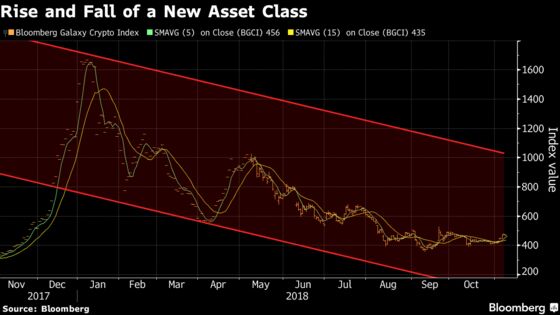 The rush to create new low-volatility tokens is also, in no small part, fueled by the ongoing controversy surrounding Tether, the largest and best known stable coin. While its creators say each of its tokens is backed by one dollar, the coins have been dogged by questions about whether that's actually the case, especially given the company's long-running refusal to be audited.
Things came to a head in the past six weeks as the token broke out of its historically tight trading range around $1 only to rebound as the company behind the token said it had $1.8 billion stored in Bahamas-based Deltec Bank & Trust Ltd.
For the swath of developers working on alternatives, ensuing stability is the biggest challenge. Many of the upstarts are following the Tether model and pegging the value of their coins to that of a separate low volatility asset, such as the U.S. dollar, and by holding large amounts of collateral. Other coins rely on algorithms to maintain stability.
Xank, which will launch early next year, offers tokens tied to a basket of fiat currencies. Other coins in development are backed by gold, other crypto currencies including stable coins, and tokens that represent ownership in other physical assets, such as U.S. Treasuries, according to Stable.Report, which organized the gathering at the Reform Club.
The club, which was created for U.K. politicians and activists that helped push through a parliamentary reform in the mid-nineteenth century, was a suitable gathering place because of its history of accommodating progressive thinking, said Stable.Report co-founder Alexander Panasuk. The former Bank of America Corp. banker, who has also helped create an association of stable coin issuers, said most of the projects will ultimately fail and the market will coalesce around a small number of tokens.
Stable coins could ultimately be used similarly to their fiat counterparts, but their success will be determined by how large they can scale and how deep liquidity can grow, said Charlie Clarence-Smith, a lawyer at Pinsent Masons LLP in London. William Mougayar, an investor who has written a book about the blockchain technology that supports digital assets, agrees that stable coins have the potential to become like digital money, yet highlights there is no evidence of that having happened yet.
Trying to prove the use case in a commercial setting is Matthias Weissl, co-founder and CEO of Verum Capital AG. His firm has joined forces with Union Bank AG in Liechtenstein to offer a stable coin starting next year for the bank's customers to use in cross-border payments.
'Money-Hungry Entrepreneurs'
Were a low volatility cryptocurrency to be adopted widely for payments, that may not necessarily be a good thing, according to Nevin Freeman, chief executive of Reserve, a stable coin project. Freeman, whose San Francisco-based company got backing from Peter Thiel and crypto exchange Coinbase Inc., said stable coin issuers have a responsibility to create robust and transparent tokens, especially if their coins are to be used widely.
"It's insane that random money-hungry entrepreneurs are being given the chance to create the next form of money — shouldn't that be left to people who understand monetary policy?" said Freeman. "There's a bunch of people in the industry moving fast to profit off of the bubble."
A digital equivalent to the dollar or euro is just one potential use case for stable coins. The tokens can also provide a place for traders to temporarily park money during times of high volatility in crypto markets, and can even be a store of value in emerging market with high inflation.
A number of high-profile coins coupled to the dollar have launched in the past three months. A consortium that includes Circle Internet Financial Ltd. and Coinbase have introduced a stable coin, as has the digital-asset exchange founded by Cameron and Tyler Winklevoss and Paxos Trust Co., a blockchain company that caters to financial institutions.
The trio have made a point of seeking regulatory approval for their offerings, with the Winklevoss's Gemini Trust Co. and Paxos winning New York state approval to issue their coins and Circle currently working with the same agency. Creating more regulated and transparent competitors to Tether could give these tokens an edge in a market increasingly on the agenda of policy makers. None are regulated by the U.S. federal government.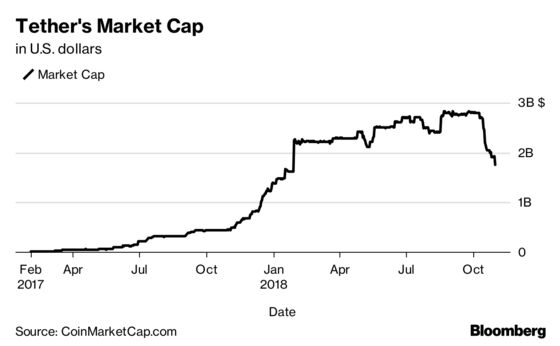 Unseating Tether is only part of the appeal for these ventures. In addition, the potential for growth in the sector is immense. Low volatility tokens currently account for around $3 billion, a fraction of the broader $220 billion crypto market.
Over half of the 37 stable coin issuers surveyed by Stable.Report estimated the market capitalization of minimum-volatility tokens will total as much as $99 billion within three to five years, while 22 percent said the market could top $1 trillion in the same period.
"Stable coins are the next hype cycle in the crypto space," said Sean Keegan, managing partner at crypto investment firm Digital Asset Strategies in Los Angeles. "The hype will be followed by a period of disillusionment, correction, despair, abandonment, evolution, and re-adoption."
---
 This article has been previously published on Bloomberg Quint.
---
Stay updated with all the insights.
Navigate news, 1 email day.
Subscribe to Qrius