By Jeanette Rodrigues
Prime Minister Narendra Modi will probably boost spending to retain young voters and those in India's hinterland, who are staying away from his party as joblessness grows.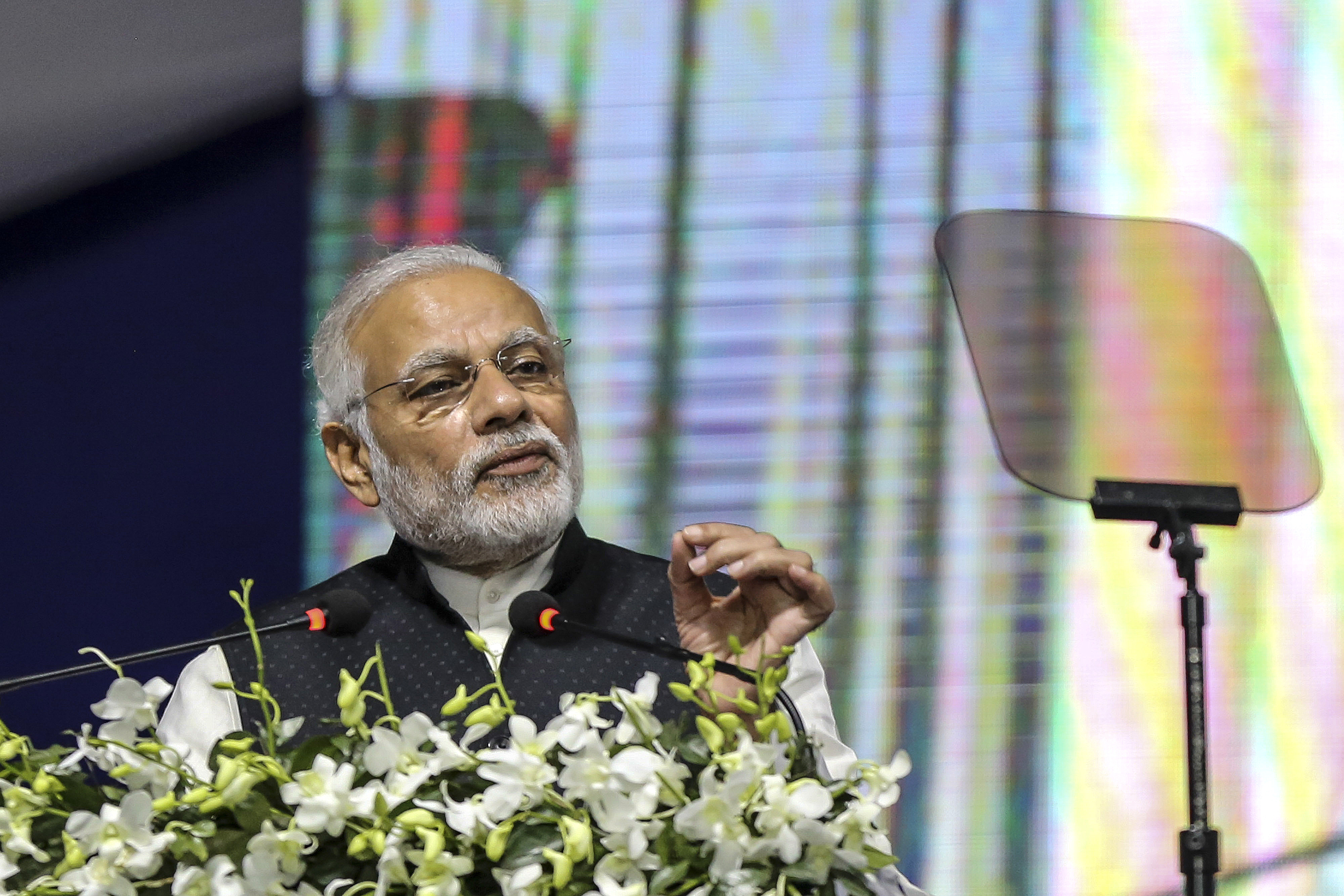 The government will target a budget deficit of 3.2 of gross domestic product in the year starting April 1, according to a Bloomberg survey published this month, wider than the previous goal of 3 percent. Higher expenditure will stoke inflation that's seen accelerating to 4.6 percent from 3.5 percent the previous year and boost GDP growth to 7.5 percent from a projected 6.7 percent.
More people aged 18-25 are estimated to have voted for the opposition in an election in Modi's home state of Gujarat, which ended with the ruling party getting its lowest seat tally in more than two decades. His Bharatiya Janata Party was pushed across the finish line largely because of its urban voters, which is acceptable for this region because of its higher urbanization rate but could backfire in a slew of state elections next year and a national vote in 2019.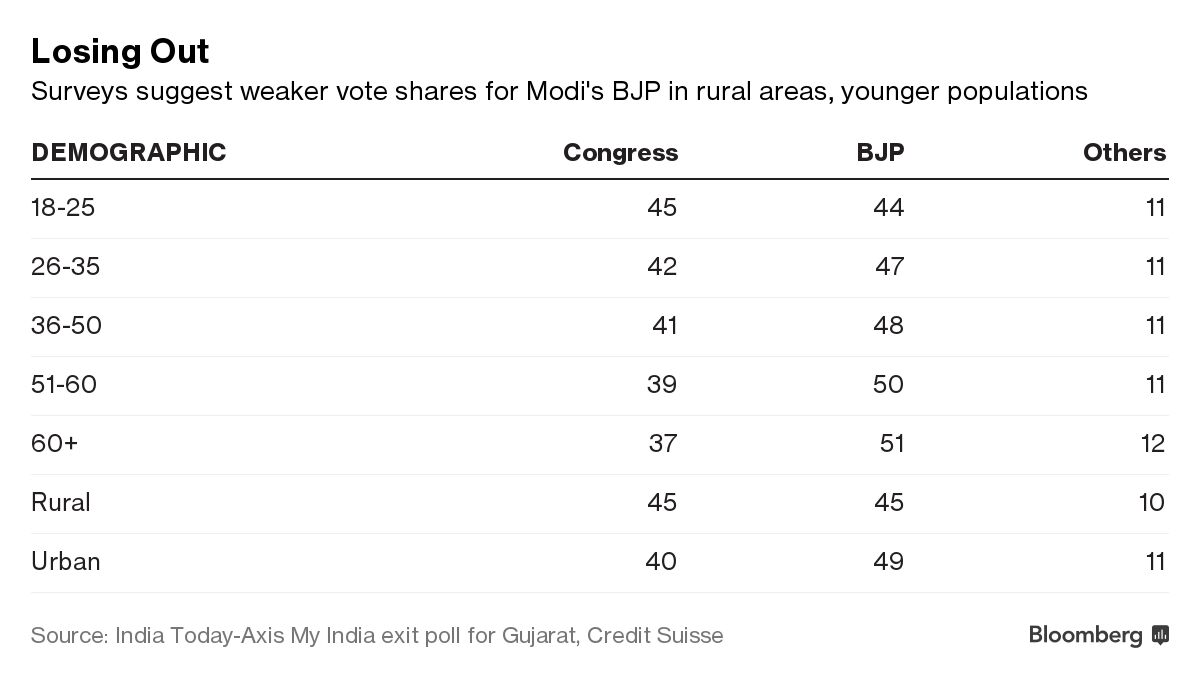 "The BJP is unlikely to interpret these results as business-as-usual," Neelkanth Mishra and Deepali Bhargava, analysts at Credit Suisse Group AG, wrote in a Dec. 18 report. They predict the budget due February will focus on rising farm distress and unveil cash transfers for fertilizer subsidies, crop insurance and possibly higher guaranteed crop prices.
"However, contrary to widely held beliefs, we do not expect a fiscal slippage," they said, predicting a 3.1 percent shortfall for next year versus the 3.2 percent current-year target.
Bank of America Merrill Lynch sees the government retaining 3.2 percent for next year, as write-offs on farm loans will probably double to $40 billion by the time Modi faces re-election early 2019. Its economists Indranil Sen Gupta and Aastha Gudwani said the federal government — which raised salaries for its employees last year — could extend this to the staff of state-run companies, and provincial administrations will rush to follow its lead.
The budget should also raise the income tax exemption limit, they said, adding that "we reiterate our call of playing consumption over investment."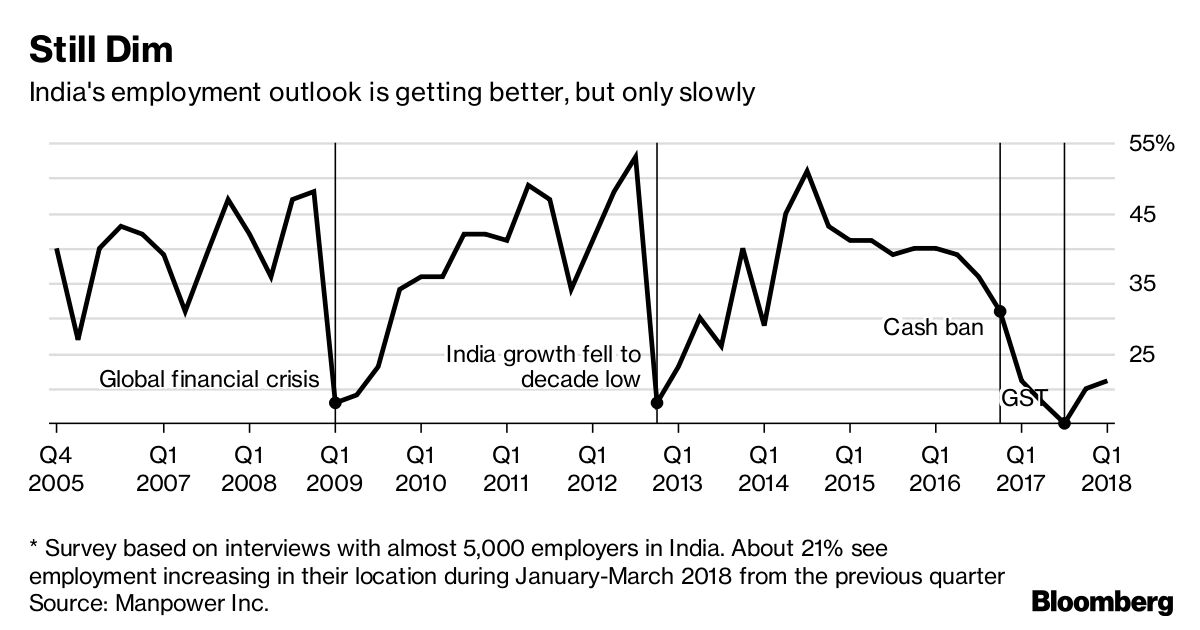 While India's consumption growth has been perceived as resilient, it's largely being funded by declining savings, so a pickup in employment is needed to sustain or spur demand, according to analysts at UBS Group AG.
"Our discussions with macro experts and government officials indicate that job creation remains a key focus area, especially going into the 2019 general elections," they said.
The central bank is expected to keep policy rates unchanged, betting that the government's move to inject a record $32 billion into struggling state lenders will be enough to revive private investment from a six-year slowdown.
---
This article was originally published on Bloomberg Quint.
---
Stay updated with all the insights.
Navigate news, 1 email day.
Subscribe to Qrius