The coronavirus pandemic has caused nearly every aspect of human interaction to undergo a forced change. Odds are, those with access to the internet have turned to video-calling apps to speak with their friends and family at least once in the past couple of months. While commonly used apps like WhatsApp and Instagram do offer a video-calling feature, the increased demand for such apps has led to the rise of two lesser-known apps – Zoom and Houseparty – in that same short window of time.
Both Zoom and Houseparty saw a massive influx of new users as governments across the world imposed lockdowns and issued stay-at-home orders for their citizens. Zoom and Houseparty became popular because of their added features, such as hosting large numbers of participants on Zoom, or the option to play games over video chat on Houseparty. However, this popularity was fleeting. In the last couple of days, both Zoom and Houseparty have courted controversy due to questions arising over the apps alleged privacy violations and security issues.
The first of the two apps to get into hot water was Houseparty. Allegations began to be raised on social media that the app was enabling hackers to access users' email, Spotify accounts, and even bank accounts.
Hi friends. I was told house party app isn't trustworthy, my friends mate was hacked so prob best to delete! Just wanted to let ya know!7,34411:18 PM – Mar 30, 2020 · East, EnglandTwitter Ads info and privacy1,056 people are talking about this
Scammers Be Gone@scammers_begone
HOUSE PARTY APP SCAM!

We have received several complaints from people who have had their bank accounts hacked & money taken.

Either delete the App or remove your bank details & ignore ANY request to update your bank details.

Please retweet to raise awareness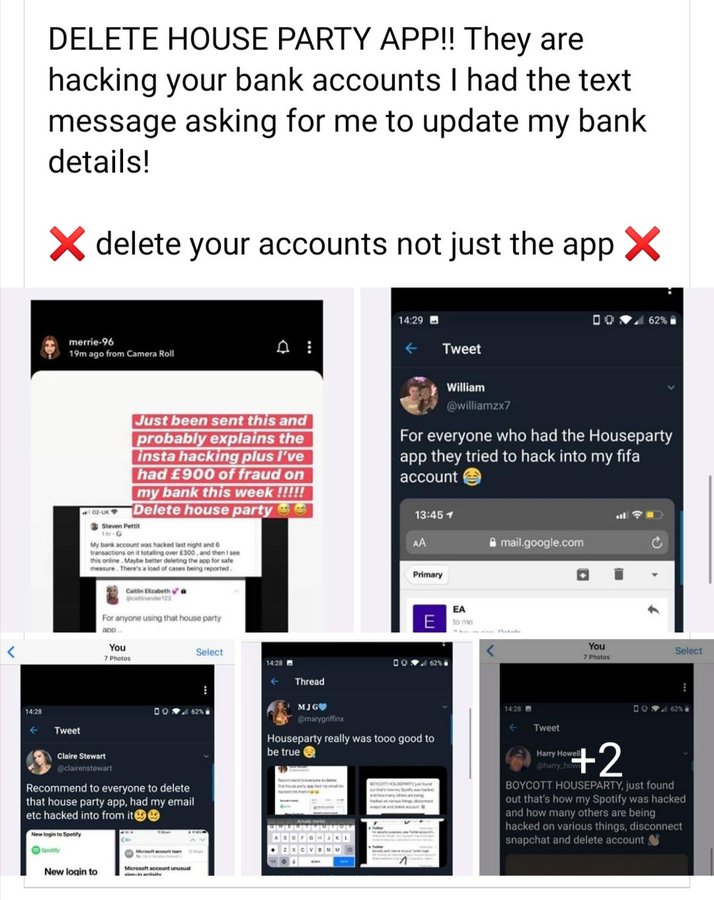 63:07 PM – Apr 1, 2020Twitter Ads info and privacySee Scammers Be Gone's other Tweets
However, Houseparty, which is owned by the multimillion dollar company Epic Games (also behind the uber-popular multi-person video game Fortnite), denied all such accusations. In fact, Houseparty officially dismissed all such claims as part of a smear campaign against them, and announced a monetary reward for anyone who could come forward with proof of the same.

I was seeing the #houseparty @houseparty delete tag everywhere and after research I found that its clear case of defame the app. Twitter users @megycassidy,@clairenstewart,@caitlinander123
accounts do not exist anymore who spread the news. Don't spread fake news without proof.
411:34 AM – Apr 1, 2020Twitter Ads info and privacySee Shitesh Sachan's other Tweets
We are investigating indications that the recent hacking rumors were spread by a paid commercial smear campaign to harm Houseparty. We are offering a $1,000,000 bounty for the first individual to provide proof of such a campaign to bounty@houseparty.com.30.3K8:51 AM – Mar 31, 2020Twitter Ads info and privacy12.1K people are talking about this
Similarly, Zoom, which until the coronavirus pandemic, was mostly used by offices to hold meetings with employees who were working remotely, also garnered bad publicity just as it had gained a new base of casual users. At the heart of the issue was the fact that Zoom was sharing the data of users – including their location, phone carrier, and a "unique advertiser identifier" that assists targeted advertising – with third parties, including Facebook. Even users who did not have Facebook accounts had their data sent across, leaving users vulnerable to a privacy breach, especially for those who have abstained from making Facebook accounts after the social media giant was found guilty of selling user data to advertisers.
Another worrying aspect haunting Zoom right now is its claim that it offers "end-to-end encryption" on its chats. A report on The Intercept highlights how this is a half-truth, as the encryption (meaning that even the service provider does not see or hear the media in a message) only works for audio. Should users enable the video feature, then Zoom can see the video chats, which is another breach of trust.
Zoom and Houseparty saw a massive influx of new users as governments across the world issued stay-at-home orders.
In addition to these accusations, both Zoom and Houseparty also faced a problem with trolls accessing users' rooms where they were chatting with their contacts. The apps allow an unaffiliated user to enter any room that is not locked or password protected. This being the internet, people were quick to abuse this feature, entering video chats that they weren't a part of and broadcasting objectionable content, including porn!
The backlash against this news has seen both Zoom and Houseparty being uninstalled from many phones, as people who were excited by their features are now scared off by the negative headlines. Zoom and Houseparty, on their behalf, have mostly denied these allegations, but it appears as if the damage has been done. The internet, much like an elephant, never forgets.
---
This article was first published in Arre