By Grant Clark
Who's not at the World Cup in Russia? Teams from Italy, the Netherlands and the U.S., which all failed to qualify. Prince William and Prime Minister Theresa May, since U.K. officials are boycotting the event. And many of the FIFA members who controversially voted for Russia to host the event, as most of them are now banned from soccer, under investigation for corruption, deceased or have otherwise moved on. Who's at the monthlong soccerfest? Thirty-two national teams, two all-time-great players (Argentina's Lionel Messi and Cristiano Ronaldo of Portugal), hundreds of thousands of foreign fans and, for the first time, a bunch of "video assistant referees." The world's most-watched sports event gets under way on Thursday at Moscow's Luzhniki stadium, the same venue that will stage the July 15 final.
1. What's different at this World Cup?
Expect longer games and referees making large rectangular shapes with their fingers. That's because FIFA, soccer's governing body, has introduced video review to help officials adjudicate goals, offenses leading to goals (including offsides), penalty decisions, incidents that would warrant a direct red card and cases of mistaken identity. Four reviewers will monitor the action from a room in Moscow, with one — the video assistant referee — in charge. The system's tryout at a FIFA tournament last year resulted in confusion among fans in the stadiums who had no idea what was happening. Watch out for those rectangular maneuvers by the match officials; they signal that the referee is seeking a video review.
The involvement of teams from Panama and Iceland (population 334,000) both of which are making their first appearance at a World Cup.
3. What explains the boycott of British officialdom?
Prime Minister May ruled out the attendance of British politicians and royals following the poisoningon British soil of a Russian former spy, Sergei Skripal, and his daughter. Despite international ill-feeling toward President Vladimir Putin, the British boycott didn't catch on. Indeed, French President Emmanuel Macron and German Chancellor Angela Merkel have indicated they will travel to Russia to attend games in the (likely) event that their teams advance.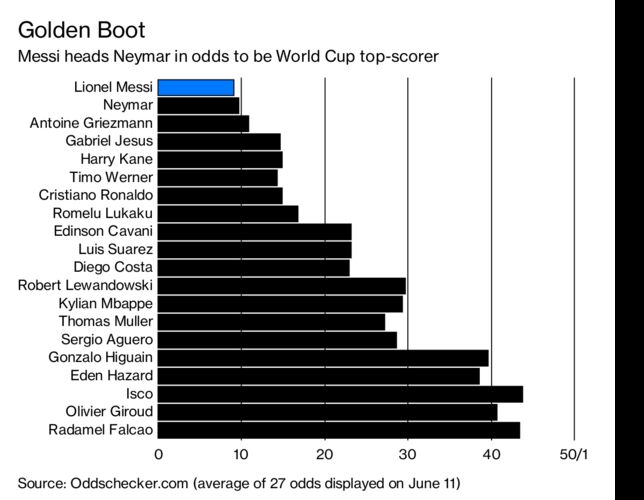 4. What's controversial about Russia hosting?
The 2010 vote by FIFA's executive committee awarding Russia this year's tournament is still under criminal investigation by French, Swiss and U.S. prosecutors, with lingering accusations that the vote was rigged. There are still-fresh memories of the doping scandal that unfolded after the 2014 Sochi Winter Olympics and resulted in the Russian team being banned from this year's winter games. (Vitaly Mutko, the former sports minister who was banned for life from the Olympics, was on the FIFA committee that selected Russia and ran the organizing committee until resigning in December.) Because of Russia's 2013 law banning public expressions of support for homosexuality, LGBT soccer fans have been warned not to hold hands or otherwise display their affections. And there's the risk of trouble from Russia's extremist soccer fans, known as "ultras," even though the authorities have come down hard and barred more than 450 troublemakers. In March, FIFA fined Russian authorities after fans directed monkey chants at black French players in St. Petersburg.
5. What's in it for Russia?
Putin's government spent 683 billion rubles ($11 billion) on preparations, much of it on new stadiums and transport infrastructure. Beyond that, the economic impact will be "very limited" because most of the 12 stadiums are in areas — like Yekaterinburg in the Ural mountains — that are unlikely to draw tourists over time, according to Moody's Investors Service. Putin used the Sochi Olympics to bolster his public image, but his approval ratings are so high that the World Cup is unlikely to affect his standing at home. Equally, it's unlikely to influence his critics overseas.
Brazil's record five world titles — a success rate of one win every four tournaments — helps place the South Americans at their customary position atop most bookmakers' odds lists. But Brazil has prevailed just once in Europe (in 1958, the first and only non-European winner on European soil) and failed spectacularly on home soil four years ago with a 7-1 semifinal defeat to eventual champion Germany. Bookmakers rate Germany (a four-time winner) and 2010 champion Spain as the next favorites, followed by France and Argentina. The bookies' most likely first-time winners? Belgium and Portugal, the European champion. Host nations have won six of the 20 World Cups, but Russia is the lowest-rated World Cup team in FIFA's rankings at 70th.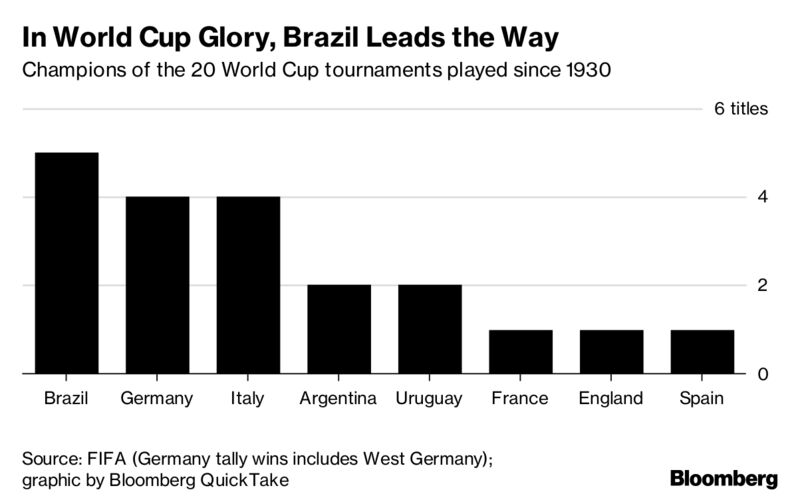 7. What do the bank boffins and psychic animals think?
Using statistics and data modeling, Commerzbank AG and UBS Group AG both conclude Germany is the most likely champion, followed by Brazil and Spain, while Goldman Sachs Group Inc. is choosing Brazilfor the second straight tournament. The verdict from EA Sports, the official video-game company that correctly predicted the last two winners by simulating the entire tournaments: France will beat Germany in the final. After the success of Paul the octopus in predicting results in 2010, by pointing a tentacle at one of two food boxes bearing the national flag of each team, Russia is promoting a deaf cat called Achilles as its tournament oracle. (Swiss guinea pig Madame Shiva and British piranha Pelestruggled to emulate Paul's prescience in 2014).
8. How many fans will attend?
Roughly 2.5 million tickets have been sold, more than half snapped up by non-Russians. The largest contingent may well be from a nation that will not be competing, with 30,000 fans from the U.S. expected to attend. The good news for many: The ruble has gotten markedly cheaper this year, falling about 7 percent against the British pound and 12 percent against the Colombian peso.
---
Grant Clark is a writer at Bloomberg Quint.
This article has previously been published on Bloomberg Quint.
---
Stay updated with all the insights.
Navigate news, 1 email day.
Subscribe to Qrius