By Katherine Chiglinsky, Gerry Smith & Natasha Rausch
Warren Buffett loves newspapers. He delivered papers as a teenager and bought a lot of them for his Berkshire Hathaway Inc. conglomerate. But now the billionaire wants an outside company to manage most of them. He's struck a deal for newspaper chain Lee Enterprises Inc. to help oversee a news empire that stretches from New Jersey to Texas and includes Buffett's hometown Omaha World-Herald.
Lee will get a $5 million annual fee plus a share of profits above certain benchmarks. That Buffett has gone from avidly buying media properties to seeking a business partner for them may not seem so surprising, given the industry's troubles. But it's left some current and former employees puzzled. In recent years, billionaires have snatched up prestigious but ailing papers—see Jeff Bezos and the Washington Post or Patrick Soon-Shiong, new owner of the Los Angeles Times. Why is the world's third-richest man not willing to pour more money into his papers?
One difference is that the Buffett newspapers are held inside a public company, and the original rationale behind the investment has weakened. Buffett famously looks for businesses with what he calls economic moats to protect them from competitors. Newspapers have long had a hold on communities, especially smaller cities—where else can advertisers go but the local paper to feature sales or new products? The answer has turned out to be the internet, Buffett has acknowledged. "These are not the mini-monopolies they once were," says Lawrence Cunningham, a professor at George Washington University and author of the book Berkshire Beyond Buffett.
Many of the publications are facing declining circulation, but Berkshire provides scant details about their finances. According to some brief lines in its annual reports, revenue was lower in 2015 and earnings from those businesses were down in 2016. "Our goal is to publish our print newspapers for as long as it is economically feasible," Debbie Bosanek, an assistant to Buffett, wrote in an email.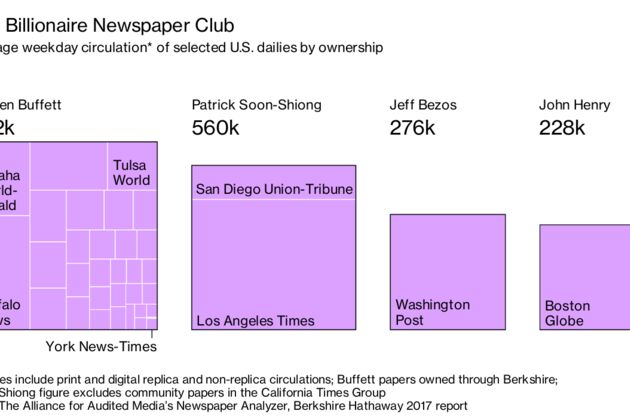 While Buffett sometimes gets out of businesses—in 1985 he shut the textile operation that gave Berkshire Hathaway its name—he can be reluctant to sell. For example, Berkshire still owns an encyclopedia company. That's part of Berkshire's pitch for potential deals. "When it buys a company, it can tell the seller that we will never sell you," says Cunningham. "That commitment to permanence can be decisive."
Buffett's ventures with newspapers started early in his career. He acquired the Omaha Sun in 1969, according to a biography by Alice Schroeder. In 1977 he bought what's now called the Buffalo News, which Berkshire still owns. That publication isn't included in the deal with Lee. Buffett later purchased the World-Herald in a 2011 deal that included papers across Nebraska and Iowa. The following year, he snapped up papers from Media General Inc.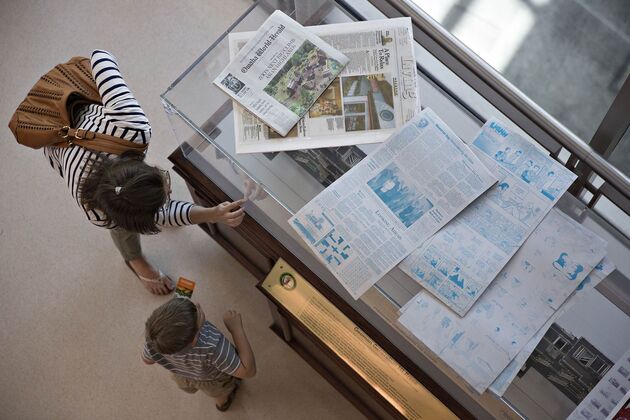 The internet threat wasn't exactly a secret in 2011 and 2012, but Buffett acquired all of the papers at "reasonable prices," he said at Berkshire's annual meeting in May. As a result, they aren't a major issue for Berkshire, which generated more than $242 billion in revenue last year. Still, Buffett's business partner Charlie Munger said at the meeting that the industry has declined faster than expected.
The Lee-Berkshire arrangement, announced in June, appears to be unique in the business, according to longtime newspaper analyst Ken Doctor. Buffett's company will cede some, but not all, control over management. Lee can cut employees or adjust ad rates without Berkshire's prior approval, except when Berkshire rejects those moves in its annual budget. It can't close a paper without running it by Berkshire. The deal expands Lee's oversight to papers in 79 markets, up from 49. It fits with an industry trend of using scale to cut costs—even in newsprint and ink. "This deal is just another way to reduce operating expenses," says Doctor. There's little overlap between the two companies except in Nebraska, where Lee owns the Lincoln Journal Star.
This isn't the first time the companies have done business. Berkshire has helped Iowa-based Lee refinance debt and was once a Lee shareholder. Terry Kroeger, chief executive officer of BH Media Group, Berkshire's main newspaper unit, is stepping down. (A reporter on this story has worked for BH's World-Herald.)
Sentiment at the publications has shifted over the years. After Berkshire got the Lynchburg, Va., News & Advance in the Media General deal, newsroom employees were optimistic when Kroeger came to meet them, according to Jill Nance Waugh, a former photographer there. A few years later, after another visit, she felt demoralized by Kroeger's talk of no cost-of-living raises. There's been a sense of panic as jobs have been cut over the years, according to several current and former employees of BH Media papers, many of whom asked not to be identified.
In a December 2016 memo obtained by Bloomberg News, Kroeger called 2016 "one of the most challenging years in recent memory for both our company and our industry." Buffett's papers have struggled to increase digital subscriptions, but Lee's haven't fared much better, according to Doctor. Both companies have seen revenue declines, and Lee has also cut head counts. Still, Lee has been managing the industry decline better by finding ways to cut costs, says Doctor.
At the May meeting, Buffett sounded a melancholy note about newspapers' prospects. "The significance to society, I think, actually is enormous," he said. "And I hope that we find something. I hope others find something, because we'll copy it. But so far, we have not succeeded in that."
---
The article was originally published in Bloomberg Quint.
Katherine Chiglinsky, Gerry Smith & Natasha Rausch are author(s) at Bloomberg Quint.