By Justin Sink
There's a reason president and policymakers carefully avoid saying a single word about important economic numbers before they're officially released. Traders react to even the slightest hint, moving markets and causing turmoil on incomplete information.
That's what happened Friday morning when President Donald Trump tweeted a big hint about the monthly employment numbers, one of the most closely watched pieces of government data.
"Looking forward to seeing the employment numbers at 8:30 this morning," he wrote at 7:21 a.m. in Washington.
To many traders it was clear that Trump was signaling the numbers would be good. There was a noticeable reaction in some markets, with the dollar climbing in the wake of the tweet as benchmark Treasury yields extended their advance to new highs for the day.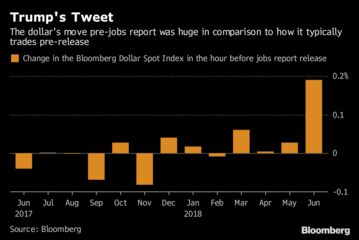 And indeed, when the official numbers were released about an hour later, they were very good: With the addition of a higher-than-expected 223,000 jobs in May, unemployment dropped to match its lowest level since 1969.
Trump wasn't guessing. He received a phone call Thursday night aboard Air Force One from his top economic adviser, Larry Kudlow, informing him of the good numbers.
"Of course he knew," Kudlow said in an interview Friday.
The president's suggestion may have run afoul of a federal rule that says executive-branch employees with early access to the data should make sure there is no release of the information ahead of the designated time.
But the same rule also says that employees shouldn't comment publicly on the data until at least an hour after release — a regulation Trump has routinely flouted on social media. White House officials have argued that it makes no sense to prohibit the president from discussing publicly available information being reported on in the press.
Kudlow defended the president's tweet across a series of subsequent media appearances Friday morning, arguing Trump didn't give anything away and that his remarks were open to interpretation.
"He's the president of the United States. He likes to tweet," Kudlow told Fox Business.
Kevin Hassett, the chairman of the Council of Economic Advisers, said the White House had followed the same procedures as prior administrations and argued that because Trump hadn't tweeted hard numbers, he hadn't done anything wrong.
Former White House economists from President Barack Obama's administration took to social media to argue Trump's tweet had upended decades of precedent and likely violated regulations about the handling of classified data.
Jason Furman, who chaired the Council of Economic Advisers in the Obama administration, said he worried the decision would introduce instability into markets and appear to politicize statistics.
Larry Summers, the Treasury secretary under President Bill Clinton and director of the National Economic Council under Obama, said a similar statement under those Democratic presidents "would have been a major scandal — with all sorts of investigations following on."
Some Republicans also spoke out.
"This certainly was a no-no," Ari Fleischer, former press secretary to President George W. Bush, said in a tweet. "The advance info is sacrosanct — not to be shared."
Still, some on Wall Street downplayed the ultimate impact of Trump's early allusion to the report.
"Our bond desk knew this was a gigantic heads up, but there are so many headlines and stories and themes we are following, Spain, Italy, trade sanctions, Nafta, that the President's tweet didn't set off a firestorm of trading activity," said Chris Rupkey, chief financial economist from Mitsubishi UFJ Financial Group.
Mickey Levy, the chief economist at Berenberg Capital Markets in New York, said in a phone interview that "the best thing to do is to wait and see the number and size things up." While "markets are always trying to get an edge," investors who responded to every one of the president's tweets "probably would have lost money," he added.
And few expected the move to have repercussions for Trump.
"This could get an ordinary person in legal trouble, but we're talking about Trump — he breaks all the rules," said Horizon Investment chief global strategist Greg Valliere in an e-mail to Bloomberg. "Unlikely that there will be a reprimand or any kind of official reaction; the issue will fade within a day or two, but next month's report will get more attention than usual."
Former U.S. Attorney Preet Bharara appeared to call for a congressional inquiry into the tweet, saying lawmakers had "the constitutional authority to investigate."
Republicans in Congress showed no immediate interest in looking into Trump's handling of economic data. Spokespeople for several committees, including the House Financial Services and Senate Banking panels, didn't respond to requests for comment Friday.
---
The article was originally published on Bloomberg Quint.
Justin Sink is an author at Bloomberg Quint.
---
Stay updated with all the insights.
Navigate news, 1 email day.
Subscribe to Qrius