By Margaret Talev and Bill Allison
---
President Donald Trump said the U.S. was open to joining discussions with South Korea and North Korea at "the appropriate time," and that he would be willing to speak directly with Kim Jong Un under the right conditions.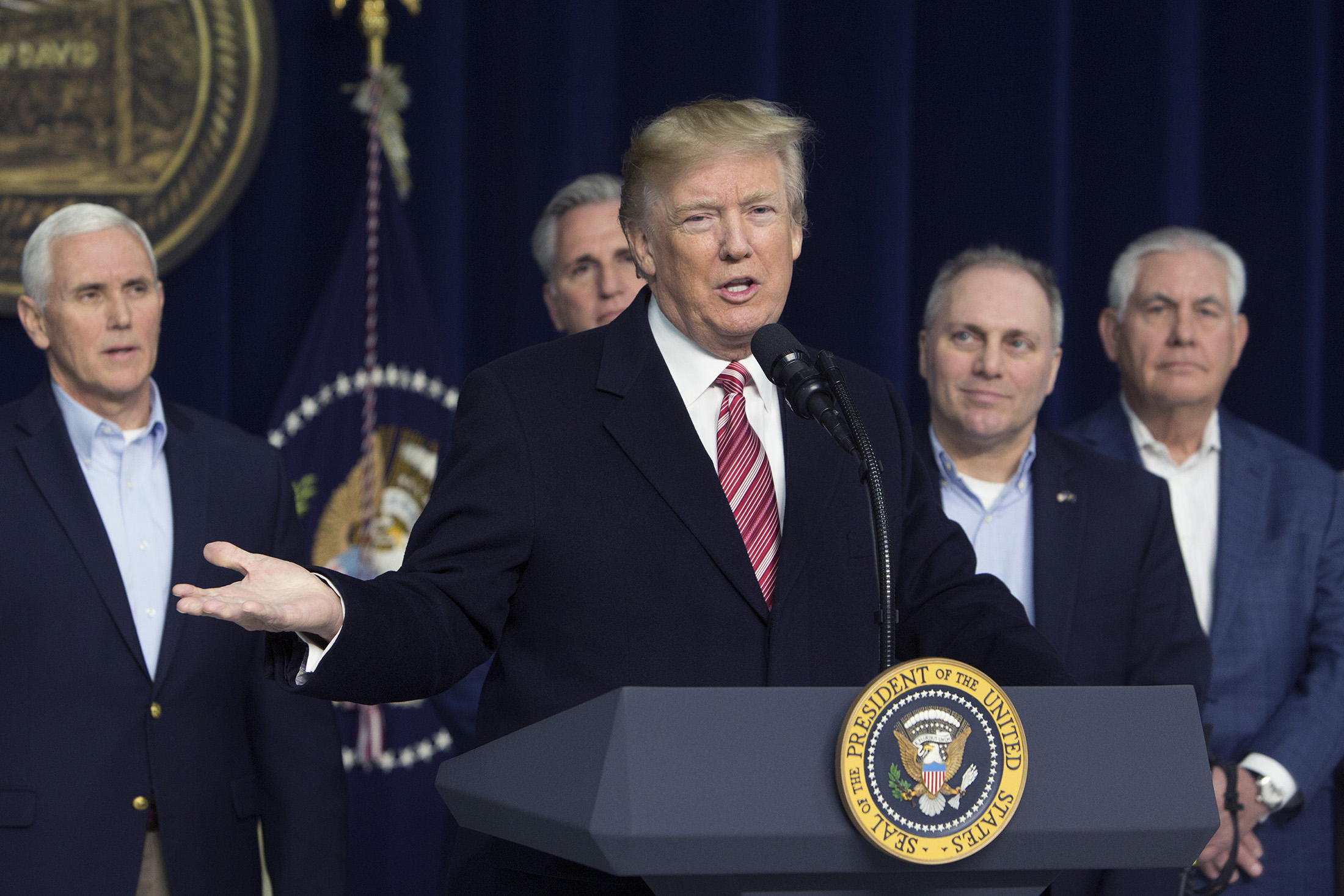 "Right now, they're talking Olympics. It's a start. It's a big start," Trump said at a news conference at Camp David about talks expected Tuesday between South Korea and North Korea. It would be "great for humanity" if something beyond cooperation in next month's Winter Olympic Games resulted, he said.
When asked whether he would be open to talking with the North Korean leader, whom he has dismissed in Twitter messages and in a United Nations speech as "Rocket Man," Trump said, "Sure, I always believe in talking," adding that "he knows I'm not messing around, not even a little bit."
Trump's openness to talks recalled his more accommodating approach during the 2016 campaign when he said he could negotiate with Kim over a hamburger. More recently, he had dismissed diplomatic efforts, even publicly chiding U.S. Secretary of State Rex Tillerson in October for "wasting his time" by pursuing them.
North Korea must stop nuclear testing "for a significant amount of time" and be willing to talk about banning its nuclear weapons, Nikki Haley, the U.S. ambassador to the UN, said on ABC's "This Week" program on Sunday.
Haley said while Trump's tweet may make people nervous, it's important to maintain pressure and remind Kim that the U.S. has the power to destroy North Korea if he decides to use nuclear weapons.
"He always has to keep Kim on his toes," Haley said of Trump. "It's very important that we don't ever let him get so arrogant that he doesn't realize the reality of what would happen if he started a nuclear war."
The North Koreans are behaving out of fear and know that for the first time in a long time, the U.S. is serious about denuclearizing the peninsula, CIA Director Mike Pompeo said on "Fox News Sunday." He and Haley also defended Trump's taunts of Kim on Twitter.
"We want the regime to understand that unlike before, we are intent on resolving this," Pompeo said.
Trump's comments on Saturday about being willing to talk with North Korea under the right circumstances are constructive, said Nicholas Burns, a former undersecretary of state under President George W. Bush who's now a professor at the Harvard Kennedy School.
"It is essential that we remain united with Seoul and not permit Kim Jong Un to divide us," Burns said.
North Korea and South Korea remain technically at war more than six decades after open hostilities ceased, with more than 30,000 American troops and the U.S. nuclear umbrella pledged to Seoul's defense. Kim's offer of reconciliation could strain that alliance by drawing South Korean President Moon Jae-in away from the U.S. bottom line.
Moon campaigned on greater engagement with North Korea and has since his May election affirmed his commitment to reunification through dialogue. He quickly accepted Kim's New Year's Day offer of talks, even though the North Korean leader also pledged to increase weapons production. The Trump administration had said that Kim must at least pause his nuclear weapons program before talks would be considered.
A commentary Sunday published by the state-run Korean Central News Agency in Pyongyang described improved ties with Seoul as a "crucial matter," departing from its usually dismissive tone toward the South. The commentary warned that "depending on foreign powers" risked complicating talks.
Still, both the U.S. and South Korea want no disruptions during the Olympics in Pyeongchang, about 50 miles (80 kilometers) from the heavily fortified border between the two Koreas. At Moon's request, Trump delayed annual joint U.S.-South Korean military exercises — long a source of consternation to the North — until after the Paralympic Games conclude on March 18.
"The only thing they're talking about in this discussion coming up, according to the South Koreans, who will be engaged in directing that, is the Olympics," U.S. Secretary of Defense James Mattis told reporters Friday. "There's nothing where they can drive a wedge at all."
North Korean Olympic representative Chang Ung was expected to meet International Olympic Committee officials in Switzerland this week to discuss his country's participation in the event, South Korea's Yonhap News Agency reported, citing unidentified people. Chang told reporters Saturday at Beijing Capital International Airport that a pair of North Korean figure skaters were likely to compete, Japan's Kyodo News reported.
Japanese Prime Minister Shinzo Abe — another key player in the U.S.-led pressure campaign against Kim — also expressed caution about the detente in an interview broadcast Sunday by Japan's NHK network.
"North Korea has shown willingness to cooperate on the Pyeongchang Olympics. I evaluate this change highly," Abe said, adding that the regime must "abandon its nuclear weapons and missiles" program. "Talks for the sake of talks are meaningless."
---
The article was originally published by BloombergQuint.
Featured Image Source: marcoverch on Visualhunt / CC BY
---
Stay updated with all the insights.
Navigate news, 1 email day.
Subscribe to Qrius