By Sahil Kapur
U.S. Special Counsel Robert Mueller is the latest top official to sound the alarm that Russia meddled in the 2016 election, but there's no sign that Donald Trump is listening yet.
The president's silence has some experts worried that Trump and his administration aren't taking the threat from Russia to this year's elections, with Republican control of Congress at stake, seriously enough.
"Everybody keeps thinking about it as, 'We need to be wary of 2018.' Well, it is 2018 and they're still after us," said Michael Allen, an intelligence and cybersecurity consultant who worked on national security policy for President George W. Bush. "Do I see a presidential initiative? No, I haven't seen one."
Trump spent the holiday weekend claiming vindication after Mueller's indictments Friday detailing an election interference scheme by 13 Russian nationals, saying it showed his campaign had done nothing wrong even though that part of the probe continues. Then the president lashed out at the investigation and his critics 14 times in fierce terms unusual even for the combative New Yorker.
Russians, Trump tweeted, are "laughing their asses off" at the U.S. over the continuing investigations and divisions in the country. He knocked his own national security adviser, H.R. McMaster, who called Russian interference "incontrovertible," for not defending the validity of Trump's election in November 2016. And Trump said the probes have distracted the FBI from stopping attacks like the school shooting in Florida last week that killed 17 people.
Russia's behavior was barely mentioned.
Trump has long been reluctant to publicly criticize Russian behavior during the election and once said he accepted President Vladimir Putin's denial of meddling. Allen said the president's latest actions show he appears more concerned that the Mueller probe casts doubt on his electoral success — whether his campaign sought Russian assistance or not.
"The president has tried to draw a line around his electoral victory, and he's in a trench. But he's dug the trench in the wrong place," Allen said. "He thinks anytime someone mentions Russia and the election that it delegitimizes his presidency. That's not a defensible position."
Instead of leading an effort to shore up vulnerable U.S. elections systems, the president tweeted "get smart, America," and found himself in familiar political fights. He feuded with Adam Schiff, the top Democrat on the House Intelligence Committee, after the California congressman said the Mueller indictment doesn't clear Trump. He was labeled a "psychopath" by Democratic Representative Ruben Gallego of Arizona for connecting the FBI's Russia probe to the bureau's failure to act on a tip about the South Florida school shooter.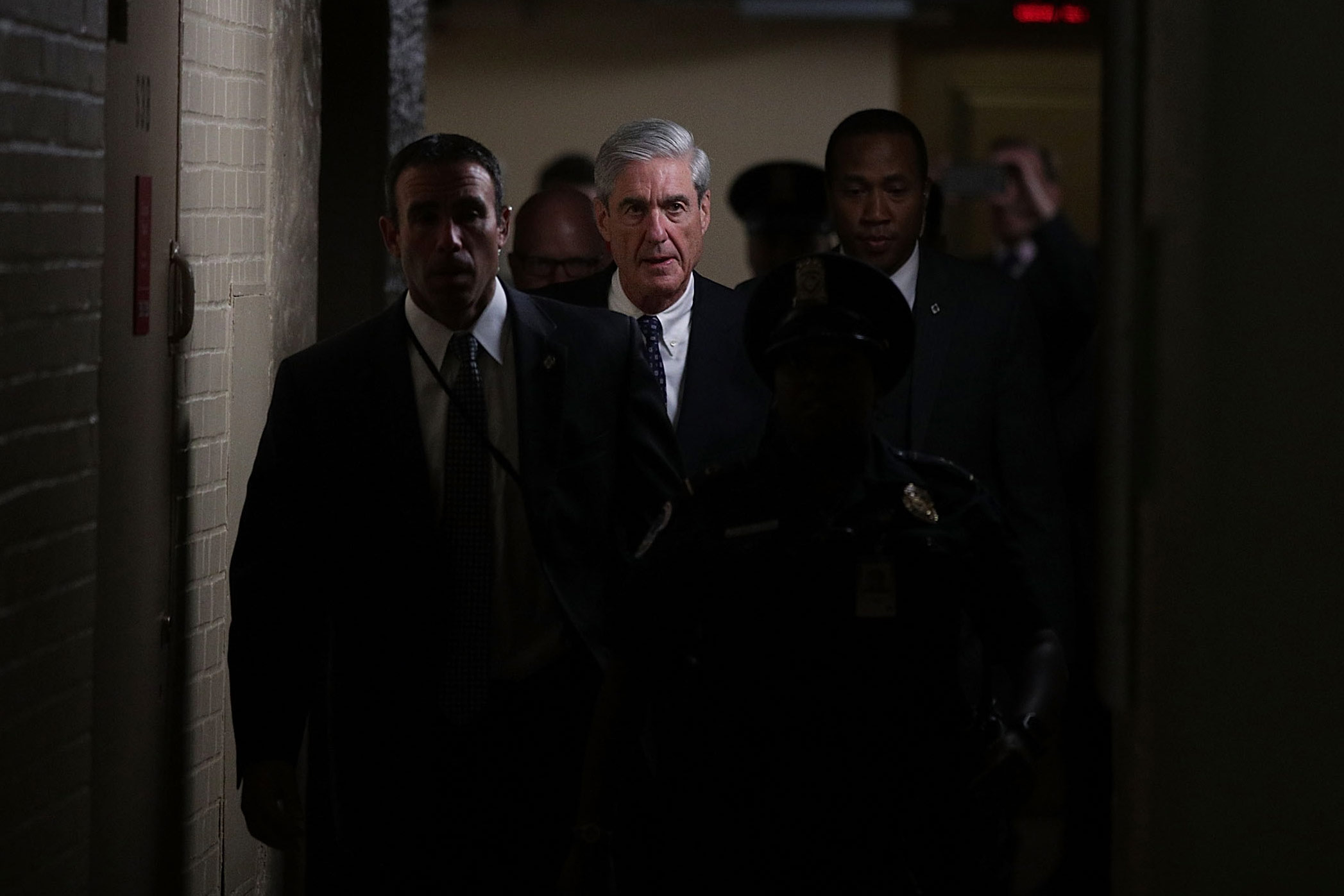 The lack of top White House leadership means companies like Facebook Inc. and Twitter Inc., as well as lower-level officials in the administration and state governments, are on the front lines of trying to ensure that Russia has a harder time interfering in the November 2018 midterm elections.
Over the weekend, election officials from all 50 states received classified briefings on risks to their electoral systems, the Office of the Director of National Intelligence said. The Department of Homeland Security and the Federal Bureau of Investigation joined the sessions.
"The American public's confidence that their vote counts — and is counted correctly — relies on secure election infrastructure," Homeland Security Secretary Kirstjen Nielsen said in a statement Tuesday. "The first primaries of the 2018 midterm election cycle are just around the corner, and DHS and our federal, state and local partners have been working together for more than a year to bolster the cybersecurity of the nation's election infrastructure."
Bob Kolasky, an acting deputy undersecretary of Homeland Security, said 21 state election officials have received interim security clearances to access information from the federal government and others are being processed.
"Should we see stress on the system, we will share information more quickly. We will understand where vulnerabilities exist and whether that stress actually has any chance of actually doing any damage in a better way than we did last time," Kolasky said.
The meetings followed a Senate Intelligence Committee hearing last week, where Director of National Intelligence Dan Coats told lawmakers that this year's elections were a "potential target" for Russian interference. But he acknowledged under questioning that "there's no single agency in charge" of blocking such meddling even after Russia's interference in the 2016 presidential campaign.
Kolasky said that the Homeland Security Department didn't detect a direct attack on state election infrastructure systems in 2017 and hasn't seen one yet this year.
 The department is providing 32 states and 31 local governments with ongoing "cyber hygiene" scans, which are free and done remotely, producing a weekly report identifying vulnerabilities and mitigation techniques for election system operators, said a DHS official, who asked for anonymity to discuss sensitive details.
On the company side, Facebook says it will double its security staff to 20,000 and invest in new artificial intelligence systems to help the newly hired humans review questionable content. Google says it's more carefully curating the carousels that list "Top Stories" and the posts it pulls from Twitter. Social media companies overall say they'll try to be more transparent about eliminating fake accounts and telling users who is sponsoring political ads.
On the President's Day holiday Monday, Trump tried another tack, tweeting that former President Barack Obama "was President up to, and beyond, the 2016 Election. So why didn't he do something about Russian meddling?"
The president targeted Obama again Tuesday morning, tweeting out an October 2016 quote in which the former president implored then-candidate Trump to campaign and "stop whining and make his case."
"That's because he thought Crooked Hillary was going to win and he didn't want to 'rock the boat.' When I easily won the Electoral College, the whole game changed and the Russian excuse became the narrative of the Dems," Trump said on Twitter.
Former Vice President Joe Biden said last month that Obama stayed quiet about Russian meddling because Senate Majority Leader Mitch McConnell, a Republican, refused to sign a bipartisan statement of condemnation, leaving the White House fearful that such a move could have been perceived as a partisan ploy to tip the election to Hillary Clinton.
Friday's indictment should be seen as an effort by Mueller to raise awareness about Russia's capabilities as the 2018 U.S. elections draw near, according to a person with knowledge of the probe. Mueller's work is expected to continue for months and also includes examining potential obstruction of justice by Trump, said the person, who requested anonymity to discuss an investigation that is largely confidential.
Legal experts said that Trump's allies shouldn't be encouraged by the lack of specific collusion charges in Friday's indictments.
"There's nothing in here for the president to cheer from a political exoneration standpoint," said Michael Zeldin, a former Justice Department special assistant to Mueller. "From a strictly legal standpoint, it has nothing to do with the president or anyone in the Trump campaign. However, it did indicate what the president denied — that this occurred, that there was interference in the election."
The special counsel showed he isn't slowing down.
A former top aide to Trump, Rick Gates, will plead guilty in the coming days to fraud-related charges unveiled in October by Mueller, the Los Angeles Times reported citing people familiar with the case whom it didn't identify. Gates was a key aide to former Trump campaign chief Paul Manafort.
The two men are accused of failing to register as agents in the U.S. for political consulting they did in Ukraine for pro-Russian politicians, conspiring to launder millions of dollars, and hiding offshore bank accounts. Manafort is accused of laundering money to buy houses, cars, clothes and landscaping services. He has pleaded not guilty.
Mueller struck again on Tuesday, charging Alex Van Der Zwaan, an attorney at a prominent law firm, with lying to investigators about his conversations with Gates as part of the special counsel's Russia probe. Calls to the lawyer and the law firm weren't immediately returned.
---
---
Stay updated with all the insights.
Navigate news, 1 email day.
Subscribe to Qrius