By Bibhudatta Pradhan and Vrishti Beniwal
---
It should have been an easy win, but the too-close-for-comfort poll victory in his home state is expected to pressure Prime Minister Narendra Modi to embrace more populist policies as he seeks to retain power in India's 2019 federal election.
Modi's Bharatiya Janata Party was leading in 99 seats in the 182-member assembly in a hard-fought election in Gujarat — just a few seats more than the majority the party needs to govern and the BJP's lowest tally in more than two decades. India's Election Commission has yet to release the final tally.
The election was seen as a referendum on last year's ban on high-value currency notes and the chaotic goods and services tax roll out this year. The slim margin of victory could prompt Modi to shun ambitious reforms — particularly on the contentious issues of labor rights and land acquisition — and roll out populist measures such as increased spending on infrastructure. That risks widening India's already bloated budget deficit and puts pressure on the battered bond market ahead of the budget in February, the last full financial plan before the general election.
Looking ahead, Modi will respond with "increased support for economic populism, particularly since the BJP lost support in rural areas due to distress in the agricultural economy," said Shailesh Kumar, senior Asia analyst at the Eurasia Group. "Structural reforms will not materialize until after the 2019 general election."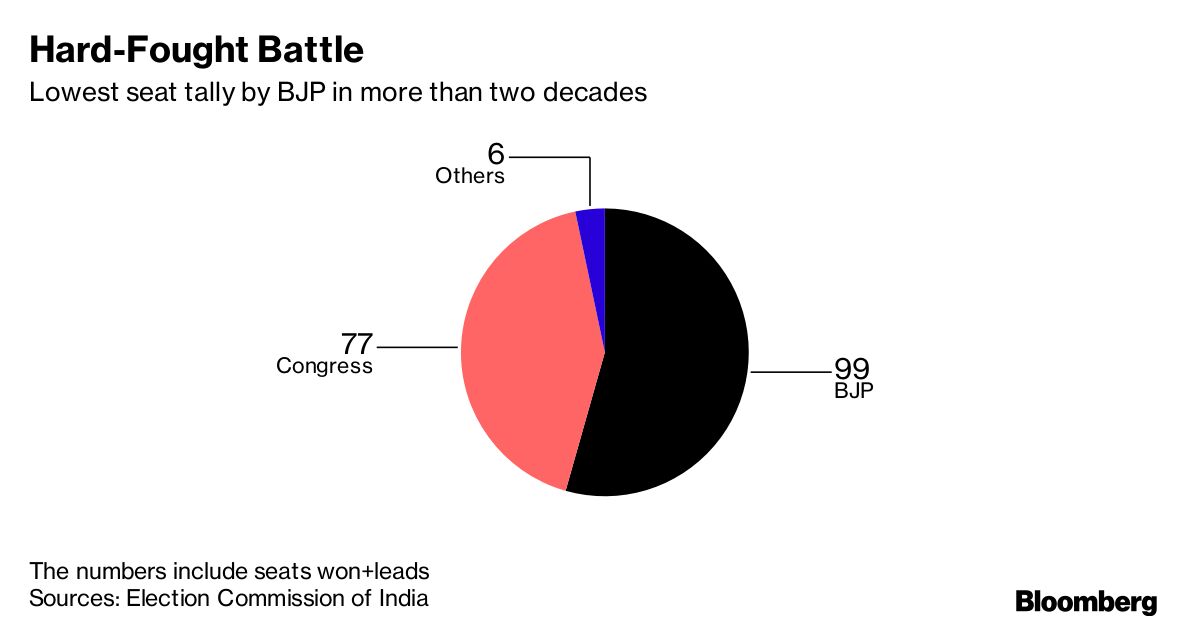 For the opposition Congress party, which has been struggling to revive its fortunes following its worst ever poll performance in 2014, the Gujarat election is a breakthrough and showed it had made strong inroads in the BJP's stronghold. Congress was ahead in 77 seats, its best performance in the state in 27 years.
The result may also embolden Congress President Rahul Gandhi, who tapped into voter discontent over Modi's economic policies, making him a key challenger to Modi in 2019.
The BJP has held Gujarat for about two decades, with Modi at the helm for more than 12 years. He used his stewardship of the state as a launchpad for his national campaign in 2014, pledging business-friendly policies and development for all.
"Given the election calendar remains heavy in 2018, we expect some shades of populism to emerge next year, with a focus on polices with both economic and political benefits," Sonal Varma, chief India economist at Nomura Holdings Inc., said in a note. "We expect an increased focus on rural development, as well as a larger budget allocation for infrastructure, women and social development schemes." 
Some analysts give credit to Modi for this win, which overcame an entrenched anti-incumbency sentiment, discontent in rural areas and resistance from trading communities following the turmoil of the GST, which has significantly affected supply chains.
"This tells us that Modi is by far the tallest leader in the country with acceptance levels not seen in decades in Indian polity," said Harsh Pant, professor of International Relations at King's College in London. "For Rahul Gandhi and the Congress, the road looks much tougher as they were unable to tap into the discontent against the BJP to any significant degree."
Still, the Gujarat election is not pointing toward a clear direction for the outcome of the 2019 general poll, with eight state elections over next year expected to provide critical insight into the mood of voters.
"Public memory is very short and Gujarat elections will be forgotten," said A.K. Verma, director of the Centre for the Study of Society and Politics. "The outcome of those eight elections would directly impact parliament elections."
---
---
Stay updated with all the insights.
Navigate news, 1 email day.
Subscribe to Qrius