By Andrew Mayeda, Josh Wingrove, Eric Martin and Shawn Donnan
(Bloomberg) — President Donald Trump said he plans to pursue a trade deal with Mexico and possibly Canada even as talks with the U.S.'s northern neighbor stalled just hours before a deadline, leaving the future of a revised North American Free Trade Agreement in continuing doubt.
The move by Trump to notify Congress on Friday that he planned to sign a deal with Mexico in 90 days and would include Canada "if it is willing" avoided what many in the U.S. business community and Congress had seen as a worst-case scenario.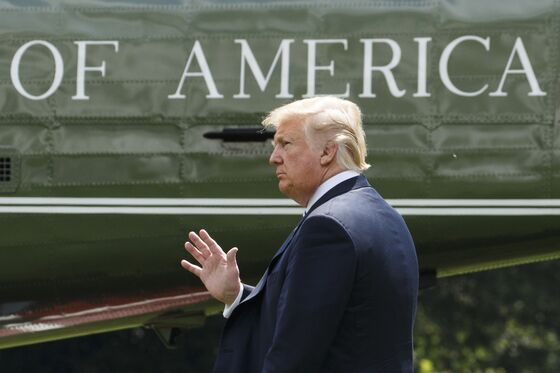 The president threatened earlier this week to go ahead with a bilateral trade agreement with Mexico that would leave out Canada, which he on Friday again accused of "ripping us off."
"We can't have these countries taking advantage of the United States," he told supporters in North Carolina.
While the two sides failed to meet a deadline set by the White House, both U.S. and Canadian negotiators insisted that they were making progress. They also announced that they would resume talks on Wednesday after four days of intense negotiations in Washington ended without a final agreement.
Sending the notification to Congress effectively sets a new clock for the Nafta negotiations. Under rules set by Congress, the administration is now facing a 30-day deadline to provide a full text of the agreement.
Because of that, negotiations could still drag on for not just days but weeks. But both the U.S. and Canada are facing their own pressures.
U.S. business groups welcomed the signs of progress but made clear that they would oppose any deal that did not include Canada.
"Anything other than a trilateral agreement won't win Congressional approval and would lose business support," the U.S. Chamber of Commerce said in a statement.
Trump's continuing vitriol toward Canada has complicated the politics for Canadian Prime Minister Justin Trudeau, who on Friday said he'll only sign an agreement that's right for his country.
Trudeau reiterated his government wouldn't concede to U.S. demands to dismantle its dairy system, known as supply management. Talks were also hung up on U.S. insistence to eliminate dispute-resolution panels that Ottawa considers essential, two Canadian officials said Friday.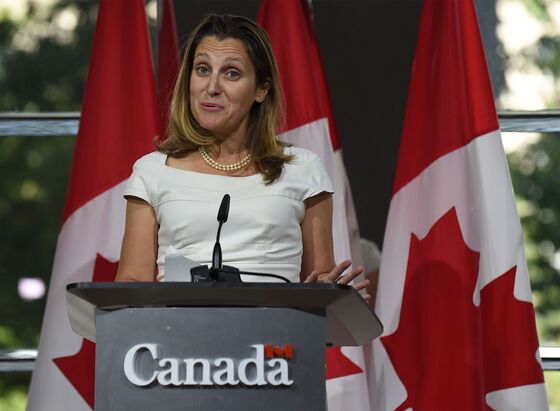 "We know that a win-win-win agreement is within reach," Chrystia Freeland, the Canadian foreign minister, told reporters in Washington after talks wrapped up on Friday. But "Canada will only sign a deal that's a good deal for Canada, we are very, very clear about that," she added. She declined to identify the trickiest issues that were holding up a deal.
Laura Macdonald, a political science professor at Carleton University in Ottawa, said despite the rhetorical pressure from Trump, the negotiations still appeared to be proceeding remarkably normally. But the limits of Trump's leverage were also becoming clear with the president still needing to get any agreement through a Congress that has concerns about any pact that does not include Canada.
"Trump is making it blatantly obvious who has the most power in this situation, but he doesn't have complete power: Congress has a role to play," Macdonald said.
Trump has been pushing to get a new Nafta approved under a process known as fast-track authority that allows him to seek a simple yes-or-no vote in Congress on trade deals, as long as his administration clears certain procedural hurdles.
Under fast-track rules, Trump must notify Congress 90 days before signing the deal. The White House set a deadline for Friday because it wanted to notify Congress in time for Mexican President Enrique Pena Nieto to sign the accord before his successor, Andres Manuel Lopez Obrador, takes office on Dec. 1. Any vote in U.S. Congress is unlikely to take place before 2019.
By then, the Democrats may control at least one chamber of Congress, and Nancy Pelosi, the minority leader in the House of Representatives, made clear on Friday that any deal must include Canada.
"Actually fixing Nafta requires reaching a trade agreement with both Mexico and Canada," she said. "Without a final agreement with Canada, the administration's work is woefully incomplete."
The administration had constructive talks with Canada this week and is still hopeful the nation will join the deal with the U.S. and Mexico, a senior administration official told reporters Friday. The U.S. intends the new deal to completely replace the current Nafta, said the official, who spoke on condition of anonymity.
Even if Canada doesn't join and it becomes a U.S.-Mexico accord, the administration believes it can satisfy Congress's requirements using the fast-track route, the official said.
---
Stay updated with all the insights.
Navigate news, 1 email day.
Subscribe to Qrius