By Andrew Mayeda
(Bloomberg) — The International Monetary Fund is poised to cut its forecast for global growth as Managing Director Christine Lagarde warns trade wars and tighter credit are darkening the outlook.
Three months since predicting the world economy would grow 3.9 percent this year and next, Lagarde signaled in Washington that she is no longer quite so optimistic. The fund will update its World Economic Outlook on Oct. 9 ahead of opening its annual meeting in Bali, Indonesia.
"Six months ago, I pointed to clouds of risk on the horizon," Lagarde said, according to her prepared remarks. "Today, some of those risks have begun to materialize."
While Lagarde acknowledged the global expansion is still the fastest in seven years, recent data suggest a cooling. Factory activity plunged from Asia to Europe in September, data showed on Monday.
Lagarde said protectionist rhetoric was turning into "actual trade barriers," spreading uncertainty among businesses and consumers. A strengthening U.S. dollar and tightening financial conditions have increased challenges for many emerging markets, she said.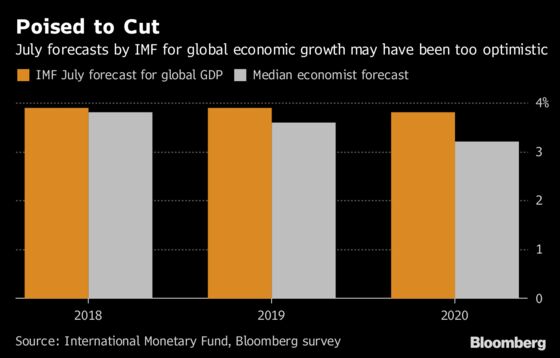 Lagarde called on countries to resolve their trade disputes, warning that the fracture of corporate supply chains could have "devastating" effects. "History shows that, while it is tempting to sail alone, countries must resist the siren call of self-sufficiency — because as the Greek legends tell us, that leads to shipwreck," she said, without naming countries that are putting up new barriers.
Lagarde has repeatedly warned that an all-out trade war could curb growth at a time when the world is enjoying the broadest upswing in years. But the U.S. and China aren't backing down, leaving no end in sight to what could be a long and bruising dispute.
President Donald Trump slapped tariffs last month on $200 billion in Chinese goods, bringing the total to $250 billion. Beijing retaliated by imposing duties on $60 billion in U.S. products, raising its total to $110 billion. China also rejected a U.S. offer to hold another round of formal negotiations.
The U.S. at the same time is moving forward with new trading agreements. A deal to revise the U.S.'s trilateral trade pact with Canada and Mexico was announced on Sunday after Trump last week signed a revised trade agreement with South Korea.
---
 This article has been previously published on Bloomberg Quint.
---
Stay updated with all the insights.
Navigate news, 1 email day.
Subscribe to Qrius