By Chris Kay and Ismail Dilawar
(Bloomberg) — Imran Khan stepped onto a makeshift stage in a trash-ridden Karachi district at 1 a.m. to address hundreds of supporters who'd been waiting for hours. His message: vote out the city's rulers who have failed to provide jobs, education, sanitation and healthcare.
"This is the first opportunity to free yourselves — they, despite taking turns for the last 30 years, couldn't give you basic facilities," Khan told the cheering crowd gathered on Wednesday in Pakistan's financial capital of 15 million people that's beset with water shortages. His aim? "To make an Islamic welfare state out of Pakistan."
On a chaotic two-day campaign tour of Karachi ahead of July 25 elections, the opposition leader and former cricket star told Bloomberg that Pakistan's economy can only be fixed by overhauling its corrupt state institutions. Lamenting the piles of roadside garbage while waving to supporters from a white Toyota Land Cruiser protected by police commandos, Khan, 65, outlined plans to expand social spending while fixing the nation's finances.
If elected he would break the dynastic hold on Pakistani politics. Nawaz Sharif's Pakistan Muslim League-Nawaz and the Pakistan Peoples Party led by Bilawal Bhutto Zardari, the son of assassinated former Prime Minister Benazir Bhutto, have between bouts of military rule rotated power for decades. Seen as an untested force, some investors are also cautious over the prospect of Khan coming to power.
Khan said he'll need loans to fund those short term ambitions, which include creating five million "cheap" homes within five years. He said his Movement for Justice party isn't ruling out the need for support from the International Monetary Fund. In May, Asad Umar, who is pegged to become the finance minister if Khan is elected, told Bloomberg the nation is close to bankruptcy, so whoever comes to power will need a bailout.
"We're discussing this, we're still in the process of working out our options right now, because we face the biggest economic crisis in our history,'' Khan said. "Pakistan has to be a welfare state — but for that obviously you need revenues."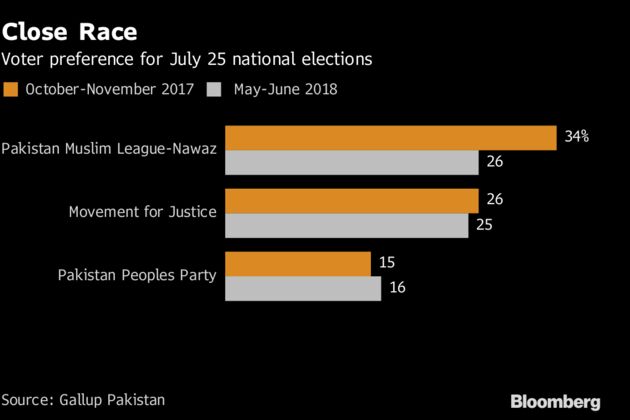 Khan, who first entered politics in the 1990s, is riding a wave of support on the back of his anti-graft campaign, which ousted his main opponent Sharif from power last year over corruption charges. A Gallup Pakistan poll published this week indicates Khan is closing the gap with Sharif's party, which is campaigning for re-election on its record of boosting infrastructure spending, improving security and reducing power cuts. In the poll, 26 percent said they will vote for the PML-N, down from 34 percent in November. About 25 percent said they'll support Khan's party.
Khan's plan for Pakistan
Build 5 million homes in five years
Malaysia-style holding company to run loss-making state firms
Fix state institutions, make Pakistan's banks lend to the poor
Movement for Justice mulling IMF bailout request
In a bid to wrest Sharif's grip from the province of Punjab, where the PML-N has deep patronage networks, Khan has courted Pakistan's feudal landlords and so-called electables who command large vote banks. He rejected criticism that including such political turncoats on his party tickets conflicts with his anti-corruption message.
"You have to win in this system — then you can bring about a change,'' Khan said. "Once electables join you they come under your party discipline."
The election has been marred by allegations of widespread army-led media censorship and intimidation. Sharif and other observers accuse Khan of close ties to the military, which has ruled Pakistan for much of its post-independence history. Many believe the army supports Khan because its wants a pliant government it can control after its relationship with Sharif soured beyond repair.
Khan denied the accusations. "Because the establishment is not supporting them this time, they are working on a George Bush formula that if you're not with me, you're against me," he said, referring to the widespread Pakistani term for the military establishment. "This is the first time you genuinely have a neutral set up now and I think this is the first time we will have free and fair elections."
He rejected claims that he's against China's financing of more than $60 billion in infrastructure projects as part of its Belt and Road trade route and said it's a "great opportunity" for Pakistan. However, he didn't rule out re-examining those loans if elected. "Most of the terms they've kept secret, people don't know what the terms are," Khan said.
After multiple failed government attempts, Khan's party won't try to privatize bloated and loss-making state companies, such as Pakistan International Airlines Corp. and Pakistan Steel Mills. His solution to "stop this bleeding" is through a Malaysian model of control through a government holding company run by professionals.
Now weeks away from his best shot at power, Khan looks out at the crowds mobbing his vehicle as it pulled into the next rally.
"We have a young population, it's 200 million people, we should be growing at the rate of China,'' he said. "If Pakistan is to get out of this mess, in short, we will have to completely change the way we govern this country."
©2018 Bloomberg L.P.
---
This article was originally published on Bloomberg Quint.
Chris Kay and Ismail Dilawar are writers at Bloomberg Quint.
---
Stay updated with all the insights.
Navigate news, 1 email day.
Subscribe to Qrius