By Sarah Halzack and Brooke Sutherland
Nestle SA may have found the right brew for perking up its U.S. coffee business.
The consumer-goods giant on Monday announced a $7.2 billion deal with Starbucks Corp. that allows it to market, sell and distribute the Seattle-based company's packaged coffees and teas.
Despite Nestle's global dominance in the coffee category, it remains an also-ran in the North American market, which is led by Starbucks, JM Smucker Co.'s Folgers and Kraft Heinz Co.'s Maxwell House.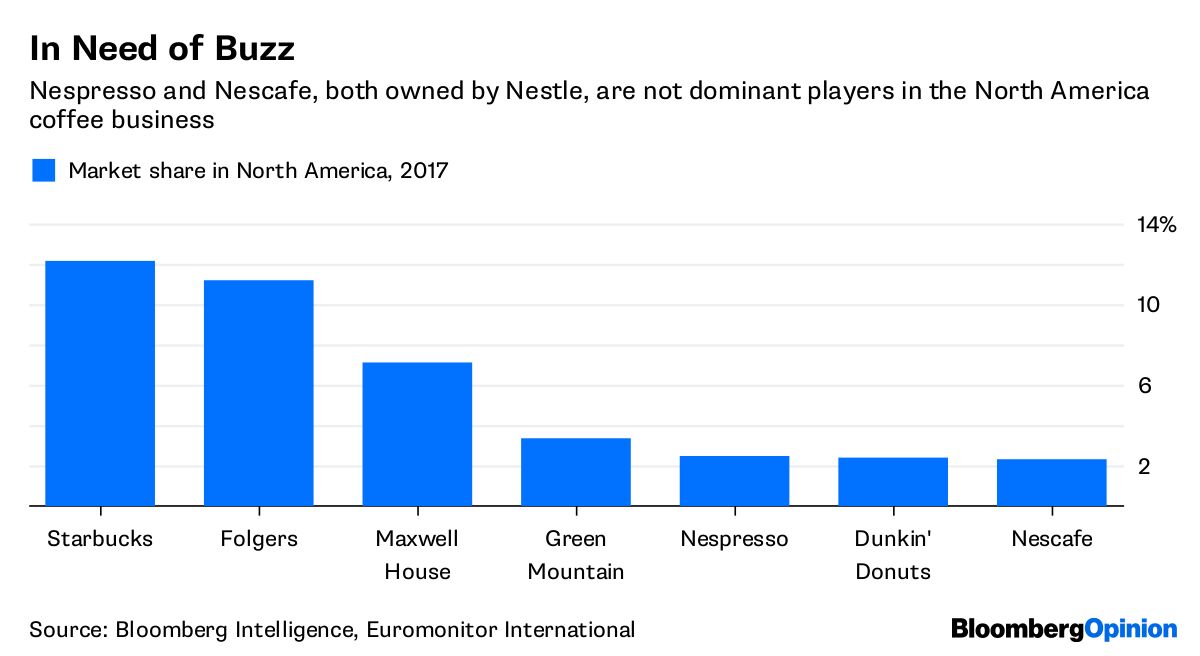 Making a big bet on coffee makes sense when you look at the long-term challenges facing a company like Nestle. The entire packaged-food industry is grappling with a massive shift in consumer preferences as shoppers look to eat healthier. Nestle has already taken steps to adapt. Its growth plan is focused on its coffee, water, pet care and infant-nutrition offerings, not sweets and indulgences. Earlier this year, it agreed to sell off its U.S. confectionary business to Ferrero SpA for $2.8 billion.
Meanwhile, Starbucks is making out quite well here. The Starbucks business that Nestle will market has annual sales of $2 billion, implying a purchase-price valuation of about 3.6 times revenue. That's a premium to the already rich multiples JAB Holding Co. has paid to build its coffee empire. The 2012 purchase of Peet's Coffee & Tea Inc. was done for about 2.5 times revenue, for example, while the 2016 takeover of Keurig Green Mountain Inc. valued the K-cup maker at a little over 3 times sales.
Growth in Starbucks's consumer coffee business had slowed, and it hadn't made much of a breakthrough overseas, says Susquehanna International Group analyst Pablo Zuanic. Nestle may give those operations the attention and muscle they need to thrive and compete with JAB.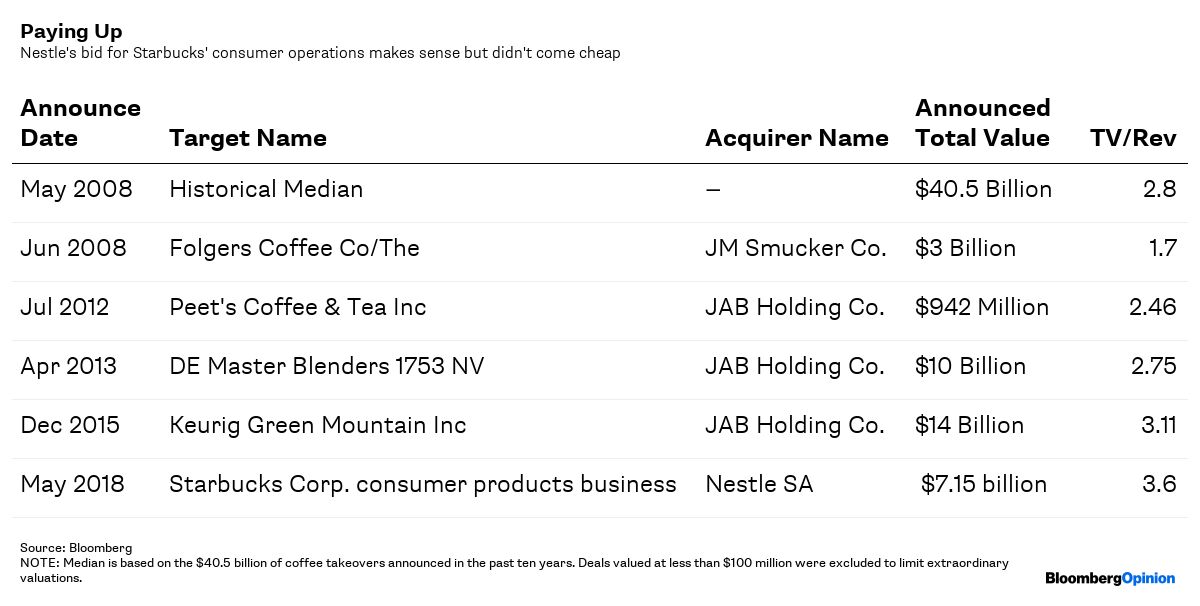 And, frankly, it might be something of a relief for Starbucks to be able to count on Nestle for some of these tasks. Starbucks has far more pressing issues to deal with than lifting up its packaged-coffee and tea business. Its U.S. cafes — the most critical segment of its business — have been struggling with weak traffic, particularly during afternoons.
This alliance between Nestle and Starbucks could end up being an important step in Nestle's bid to reshape itself for a fast-changing consumer environment. We'll soon find out just how much of a caffeine buzz it can provide.
---
This article has been previously published on Bloomberg Quint.
---
Stay updated with all the insights.
Navigate news, 1 email day.
Subscribe to Qrius