By Fergal O'Brien
Germany for the World Cup title.
That's according to statistical analysis, number crunching and data modeling by economists at Commerzbank, the second-biggest listed lender in, well, Germany. (To be fair, we should note the lead author is London-based Peter Dixon.)
The tournament, taking place in Russia, kicks off in just over a week and will conclude on July 15. According to Commerzbank, Germany has an 18 percent probability of lifting the trophy, with Brazil the second most likely, just below 13 percent, and Spain, Argentina and France behind that. England has a 6.2 percent chance.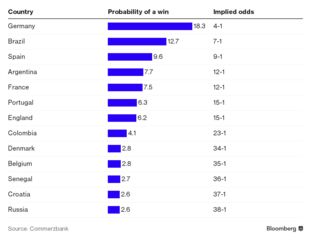 Big data studies are a regular feature in the buildup to tournaments such as the World Cup. A simulation by Swiss bank UBS published last month also said Germany will win, while a study by the University of Innsbruck says Germany and Brazil will compete in the final, though it gives South American team the edge. It has 16.6 percent probability, just ahead of Germany's 15.8 percent.
That would be payback for Brazil's 7-1 defeat to Germany in the semi-final of the 2014 World Cup.
To take part in the action on the Bloomberg terminal, click here
The Commerzbank analysis takes into account world rankings, track record at previous World Cups, home bias and number of goals scored in the tournament over the years. Playing at home isn't the advantage it once was, so hosts Russia are give just a 2.6 percent probability. To account for the inherent randomness in sport, Commerzbank ran 10,000 simulations on each game.
If Germany do win, they will increase their World Cups to five, matching Brazil's record. They would also be the first international football team to retain the title in more than half a century. The last team to do so — in 1962 — was Brazil.
But, for all the data in the world, let's not forget the words of former England striker Gary Lineker.
"Football is a simple game. Twenty-two men chase a ball for 90 minutes and at the end, the Germans always win."
---
The article was originally published on Bloomberg Quint.
Fergal O'Brien is an author at Bloomberg Quint.
---
Stay updated with all the insights.
Navigate news, 1 email day.
Subscribe to Qrius