By Anirban Nag & P R Sanjai
---
Jaguar Land Rover owner Tata Motors Ltd. had just about 200 women on the shop floor three years ago. Now, it has 10 times that number and is looking to hire more.
In socially conservative India, that may be a tall order. Better educated women from wealthier families aren't encouraged to work and it's usually when a man's salary falls short that women seek jobs. Many drop out to take care of children and older family members, shrinking the share of women in the workforce to around 24 percent in 2015-2016 from 36 percent a decade earlier, according to government data.
The cost of going backward is real for India: Asia's third-largest economy would see gross domestic product increased 27 percent if it were able to boost female workforce participation to the levels seen for men, International Monetary Fund Managing Director Christine Lagarde has said. For Tata Motors, the benefits are already apparent.
"What we also found was beside discipline, productivity, safety, and quality of work were outstanding with the women workforce on the shop floor, putting pressure to recruit more such people," said Gajendra Chandel, chief human resource officer at Tata Motors. "We have set a target of 25 percent for all future hiring."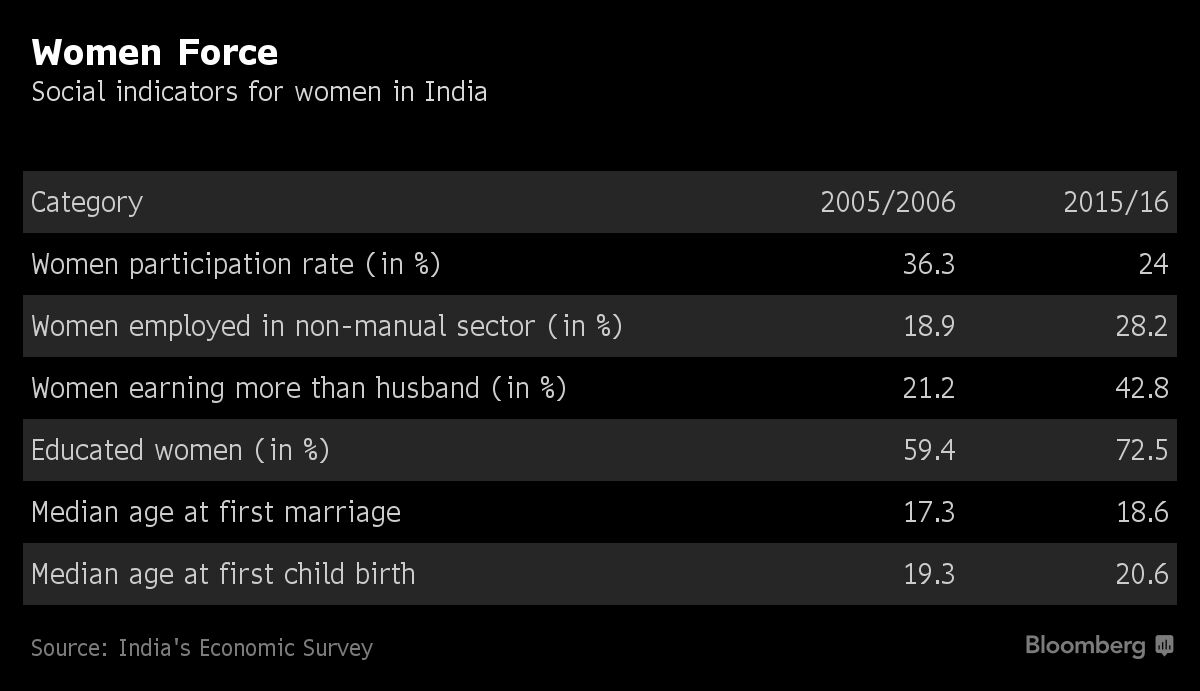 Still, boosting the share of women in the workforce is a challenge, particularly for companies such as Tata Motors.
Women make up just 18 percent of those employed in manufacturing and construction, well behind the 22 percent in services and the 60 percent in farming, according to the World Bank. Those figures broadly match a recent survey by the Swedish Consulate that showed participation by women in manufacturing in India was between 3 percent and 12 percent.
Tata Motors has started by setting an internal target of ensuring a third of workers on the shop floor are women and Chandel expects to progressively move their share of all employees up to 25 percent from 5 percent now.
Government policies are also forcing companies to create a more women-friendly environment. India recently instituted paid maternity leave of 26 weeks and also requires larger companies to offer convenient childcare facilities.
In this year's Economic survey, the government's Chief Economic Adviser Arvind Subramanian pointed to a greater need for jobs that women say they prefer — regular, part-time employment that provides steady income and allows them to reconcile household duties. Just as India committed to improving its ranking on the ease of doing business indicators, the nation "should perhaps do so on gender outcomes as well," he wrote.
Indeed, much needs to be done to bridge pay gaps. Women in India earn 20 percent less than men, the latest Monster Salary Index showed, according to a Mint report. The gap has widened for those with experience and, at 25 percent, is the most for employees who have worked for 11 years or more, according to the report.
"India stands the risk of losing out if women's participation levels keep falling," said Priyanka Kishore, lead Asia economist at Oxford Economics in Singapore. "Socio-cultural issues inhibit female participation in the labor force. So, enabling conditions like safety, better childcare, more maternity leave will help in retaining women."
---
The article was originally published on Bloomberg Quint.
Featured Image Credit(s): Pixabay
---
Stay updated with all the insights.
Navigate news, 1 email day.
Subscribe to Qrius