By Prarthana Mitra
As the G7 summit ended in disarray last week, so did the long-standing alliance between the American and Canadian administration, following a debate over tariffs, counter-tariffs and some name-calling.
United States president Donald Trump retracted the previously agreed upon joint communique endorsing a rule-based trade system, at the very end of the G7 summit last week, accusing the group of seven nations of imposing "massive tariffs" on the US. Blasting Canadian Prime Minister Justin Trudeau for being dishonest and weak during the summit, Trump pulled out from the carefully crafted final agreement, hours after calling it "tremendously successful".
Based on Justin's false statements at his news conference, and the fact that Canada is charging massive Tariffs to our U.S. farmers, workers and companies, I have instructed our U.S. Reps not to endorse the Communique as we look at Tariffs on automobiles flooding the U.S. Market!

— Donald J. Trump (@realDonaldTrump) June 9, 2018
What led to the beef between the old allies?
In response to the massive steel and aluminium tariffs imposed by the Trump administration, Canada which is one of the largest exporters of the same spoke out against the exorbitant duties.
Trudeau addressed the media on June 9 stating his intention to impose retaliatory measures on the US from 1 July, as a necessary means to safeguard Canadian interests.  He informed with absolute certainty and firmness as tension over steel and aluminium duties continue to portend to a full-blown global trade war, "I don't want to hurt American workers, they are our neighbours and our friends," adding, "[however] My job is to stand for Canadian workers, Canadian interests and I will do that, without flinching."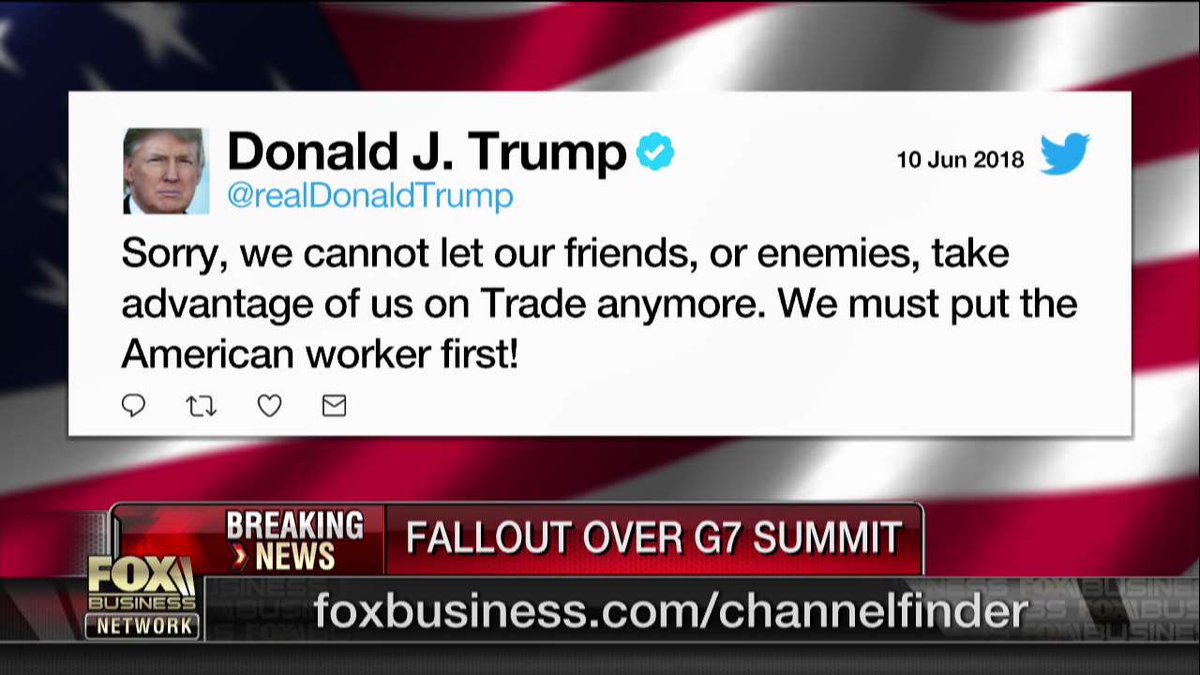 Trump later addressed the media in a press debriefing, saying that he intends to put an end to milking the fabled American cow, calling all nations out for unabashedly "robbing" their resources. He also justified the newly imposed tariffs on Mexico, Canada and the European Union citing national security concerns, which their oldest ally has evidently found to be "insulting".
PM Justin Trudeau of Canada acted so meek and mild during our @G7 meetings only to give a news conference after I left saying that, "US Tariffs were kind of insulting" and he "will not be pushed around." Very dishonest & weak. Our Tariffs are in response to his of 270% on dairy!

— Donald J. Trump (@realDonaldTrump) June 9, 2018
In response to White House Trade Advisor Peter Navarro's comment, "there's a special place in hell for any foreign leader that engages in bad faith diplomacy", European Council president Donald Tusk retorted on social media defending the Canadian Prime Minister by saying "there's a special place in heaven for Justin Trudeau."
I congratulate the G7 countries for recognizing that investing in the education of girls and women is the surest way to advancing our society. I thank @JustinTrudeau and all G7 leaders for taking this step to create a better, more equitable world https://t.co/VwH4ZqwzQz

— Kailash Satyarthi (@k_satyarthi) June 11, 2018
The EU nations have agreed to stick to the communique as well, thus completely alienating the US from its oldest allies, with Germany's economy minister claiming that the entire affair has brought the European Union closer. Perhaps, the seminal question right now is whether the Trump-Putin bromance will blossom into a full-blown affair.
---
Prarthana Mitra is a staff writer at Qrius.
---
Stay updated with all the insights.
Navigate news, 1 email day.
Subscribe to Qrius