By Yuji Nakamura, Takako Taniguchi and Kurumi Mori
(Bloomberg) — Flooding and landslides throughout western Japan have killed at least 66 people, forced thousands from their homes, knocked out electricity and halted operations at companies ranging from Panasonic Corp. to Amazon.com Inc.
The death toll from what's described as "historical rainfall" nearly tripled Sunday from Saturday, with local television showing overflowing rivers, submerged vehicles, collapsed roads and homes crushed under landslides. More than 40 people were missing, while evacuation orders remained in place for 4.3 million people, according to Kyodo. The government maintained flood warnings on Sunday as rain continued to fall.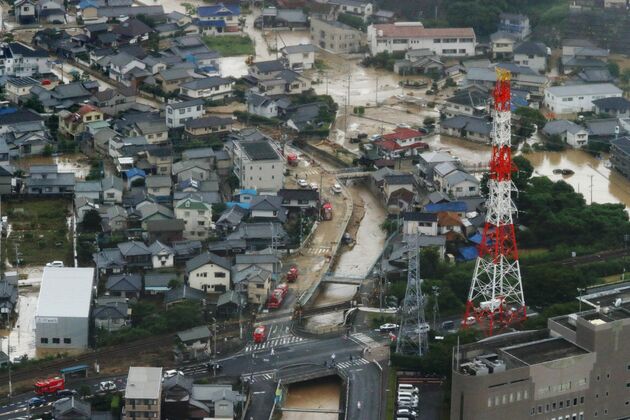 "Record rainfall in each region is resulting in the overflowing of rivers, heavy flooding and numerous landslides," Japan's Chief Cabinet Secretary Yoshihide Suga told reporters early Sunday. "About 54,000 personnel and 41 helicopters from police and fire departments, Self-Defense Forces, and the Coast Guard are conducting search-and-rescue operations at full strength."
More than 1,000 people were stranded and awaiting rescue in Kurashiki, Okayama, a popular tourist town known, NHK reported. Casualties in Hiroshima prefecture were heaviest with 28, followed by Aichi prefecture at 18, according to Kyodo.
Below is a summary of reports on company outages:
Power outages knocked out connectivity for NTT Docomo Inc. users in areas from Kyoto to Hiroshima, the carrier said in a statement.
Amazon stopped work at a distribution center in Okayama prefecture on Saturday. Operations re-started early Sunday after truck passages were cleared, according to a company spokesman.
Panasonic halted production of video cameras at a plant in Okayama city, the Nikkei reported.
Mitsubishi Motors Corp. halted operations at its Okayama plant as it was unable to procure parts, while Daihatsu Motor Co., a mini-vehicle making unit of Toyota Motor Corp., said it had suspended production at two plants in Osaka and Kyoto for the same reason, Kyoto reported.
Mazda Motor Corp. halted weekend production at a factory in Hiroshima, a company representative said on Sunday.
Kyushu Electric Power Co.'s Sendai No. 1 nuclear reactor was operating normally, according to the company's website. Calls to the company were not answered outside normal hours.
Sony Corp. reported no damage across the company, including at plants that produce smartphone camera chips for Apple Inc., according to a company spokesman.
A total of 208 convenience stores or supermarkets were not operating throughout western Japan, the country's trade ministry said early Sunday.
Separately, a 6.0 magnitude earthquake struck off the coast of Chiba prefecture on Saturday evening, according to the Japan Meteorological Agency. The quake shook buildings in Tokyo, but the government said there was no immediate danger of a tsunami and local media reported limited damage.
---
Stay updated with all the insights.
Navigate news, 1 email day.
Subscribe to Qrius