By Jing Cao, Stephen Sweeney
---
Facebook Inc.'s decision to shift people's news feeds back toward posts from friends and family and away from businesses and media outlets will likely mean users spend less time on the site. Yet analysts say advertising revenue may continue to grow as quality over quantity wins out.
After a year spent on the defensive for Facebook's role in Russsian election meddling, cyber bullying, and general backlash against social media, Chief Executive Officer Mark Zuckerberg wants to focus on more bringing people together through more meaningful social interactions. He's betting that without a constant barrage from publishers and brands — especially on negative news topics — that people will take more time to banter with friends about a party or favorite tv show or praise for an accomplished niece.
While Facebook shares dipped on the news, several analysts said they doubt it will have significant impact on the company's tremendous advertising revenue. On the contrary, some were encouraged by Zuckerberg's recognition that customer satisfaction had already begun to slip recently and his attempt to woo back users in an environment where many have become turned off to technology and social media.
Advertisers will keep ponying up to reach Facebook users who are happier to be on the site, engaging with family and friends and less encumbered with noise — or so the argument goes.
"We believe these changes will be beneficial to Facebook in the medium and long term," said Mark Mahaney, an analyst at RBC who rates the shares a buy. "In our view, making the feed more relevant should boost user and engagement growth over time. Facebook is making the service more social and less media, and that's likely a positive for the vast majority of users."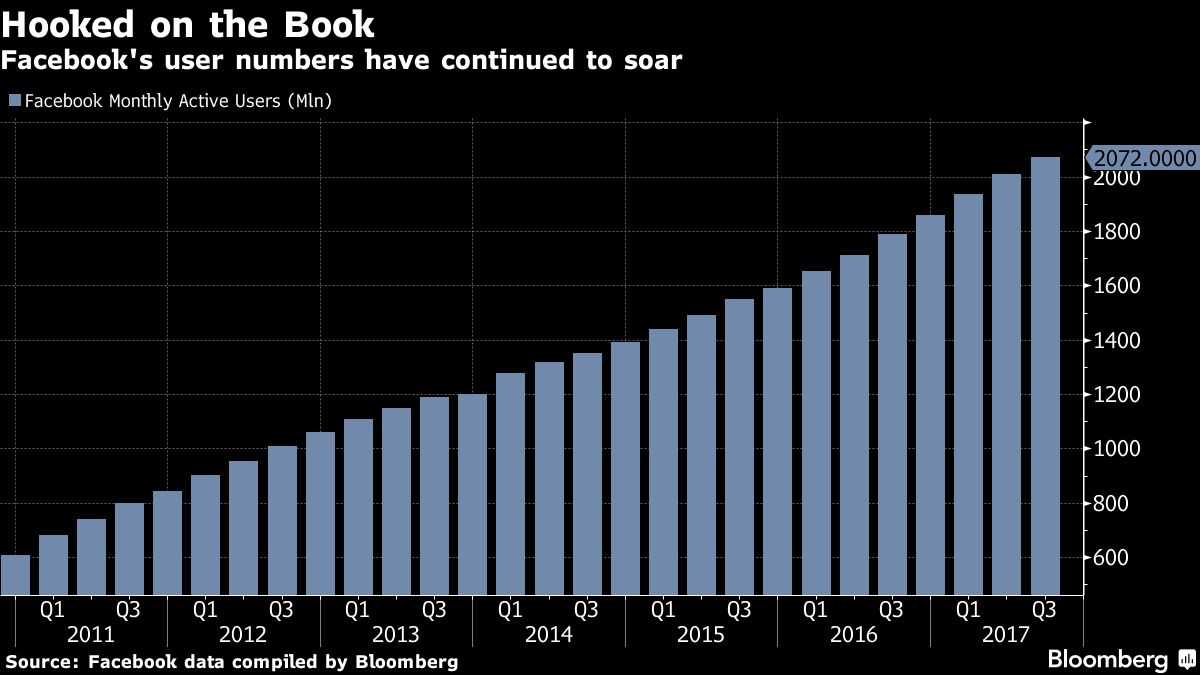 Ad dollars will continue to pour into social media and search feeds, and only Alphabet Inc.'s Google currently has the kind of global reach that Facebook has, which means advertisers have no other alternatives in the near-term, said James Cakmak, an analyst at Monness Crespi Hardt & Co. Facebook had already been seeing slowing advertising growth, with properties like Instagram contributing an increasing proportion. Facebook's users had also been showing signs of slipping satisfaction, as the company confronted the fake news scandal and pervasive negativity.
"Shrinking supply makes the opportunity to get in front of your target audience that much more valuable," Cakmak said. "The top brands in the entire world that currently rely on digital channels will continue to rely on digital channels, and nothing is changing in terms of consumer behavior shifting from analogue to digital."
Zuckerberg has said that his 2018 resolution is to "fix" the social network he co-founded. Over the past year, Facebook's reputation has taken a major hit following revelations of Russia's manipulation of social media platforms during the 2016 U.S. election and increasing privacy concerns. U.S. lawmakers and European Union regulators have increased scrutiny of the platform, while early Facebook employees and investors have publicly criticized the social media site for its detrimental impacts on society.
In the face of mounting criticism, Zuckerberg's decision is about reshaping and controlling the Facebook narrative, Cakmak said. While the company didn't say it outright, these changes are in response to the current political landscape and the focus from consumers and the media on the influence Facebook has had, and could have, on people's political opinions and knowledge, he said.
"No company will be a bigger scapegoat than Facebook as we approach the 2018 midterm elections, and it'll be blamed by both sides of the political spectrum," he said. "This is a good story, about going back to your roots, focusing on family and friends."
To be sure, not all analysts saw the moves as positives, and many were scrambling to figure out how the changes affect the interplay between the time users spend on the platform, the amount of ads they'll see and how much Facebook will be able to charge for each one.
"It is too early to know the full impact of these changes" said JPMorgan Chase & Co. analyst Doug Anmuth, who has a buy rating on the stock. "We are not adjusting any numbers right now, but it does create risk to Facebook's financials. Mark's post, quite deliberately we think, does not mention ads or advertising."
Facebook shares were down 4.2 percent to $179.85 at 1:43 p.m. in New York, after earlier declining as much as 5.5 percent for its worst intraday drop since November 2016.
Looking to 2019 and beyond, Facebook will need to find the right balance to strike in its user feed content, and it would be easy for them to walk back these changes, according to Cakmak. As ad prices on Facebook continue to increase, it invariably squeezes out businesses with less money to spend, he said. That means smaller brands and startups would look for other advertising avenues. This also presents an opportunity for the beleaguered Snap Inc. and other publishers.
"Between the near daily issues on YouTube and Facebook with uncontrollable environments, brands may begin to seek out more trusted environments if not already," said Jason Kint, chief executive officer of Digital Content Next, the trade group that represents many big publishers. "Premium publishers who spend their time and resources cultivating trusted environments from consumers will welcome brand advertisers with open arms."
---
This article was originally published on Bloomberg Quint.
Featured image credits: Insiteful Web
---
Stay updated with all the insights.
Navigate news, 1 email day.
Subscribe to Qrius