By Isabel Reynolds and Takashi Hirokawa
(Bloomberg) — Prime Minister Shinzo Abe vowed to defend Japan's interests as he prepares for talks with President Donald Trump in New York next week amid concerns that the U.S. could follow through on threats of further tariffs on exports.
On Monday, Japanese Economy Minister Toshimitsu Motegi is set for a second round of talks on bilateral trade with his U.S. counterpart, Trade Representative Robert Lighthizer. Abe is scheduled to hold broader discussions with Trump on Sept. 26.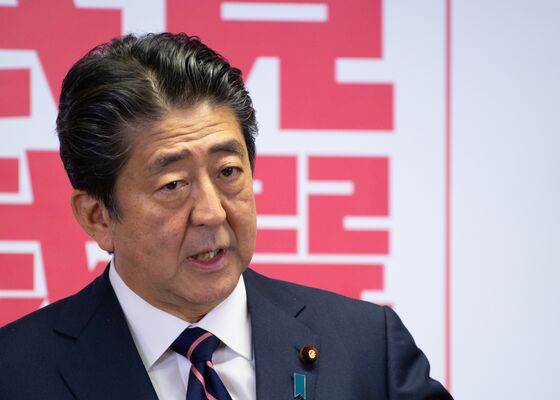 While the U.S. is pressing for a bilateral trade agreement, Abe has persistently urged Trump to reconsider his decision to quit the Trans-Pacific Partnership, seeking to entice the U.S. back to the regional trade pact.
"National interests will always clash," Abe said in an interview with Japanese public broadcaster NHK Thursday, hours after winning a third consecutive term as leader of the country's ruling Liberal Democratic Party. The victory clears the way for him to become Japan's longest-serving premier.
"I want to defend Japan's national interests to the hilt," Abe said. "For example, on agricultural products I have said I won't go any further than what was offered in TPP."
Abe has invested in building a personal relationship with Trump, who tweeted his congratulations to the Japanese leader after Thursday's election. But he has failed to secure an exemption for Japan from U.S. steel and aluminum tariffs implemented in March. Japan's steel exports to the U.S. have since fallen to their lowest level in more than seven years.
Concerns are simmering that Japan may soon face punitive tariffs on its auto exports or more demands to open up its farm sector, which remains protected even under TPP regulations.
"Tit-for-tat trade sanctions don't benefit any country," Abe told a gathering of LDP lawmakers on Monday, without mentioning Trump by name. "Now is the time for Japan to take the lead in creating the rules of the new era as a flag-bearer for free trade."
Abe's ultra-loose monetary policy has helped Japan achieve its strongest period of economic growth in decades. But U.S. trade sanctions are a looming threat to what he claims as a major success of his almost six years in office.
While playing down the conflict between the two sides as "a difference in methods" with the common goal of expanding trade and investment, Abe told NHK the issue of automotive trade should be dealt with strictly under World Trade Organization rules. Motegi told reporters Friday that he didn't believe concerns about agriculture would be substantiated, Kyodo News reported.
Trump told reporters earlier this month that it would be a "big problem" if the two countries aren't able to reach a trade deal. U.S. ambassador to Tokyo William Hagerty kept up the pressure in a Sept. 10 interview with Japanese broadcaster BS Fuji.
"We need a trade agreement, we should have a trade agreement, and I feel confident we will have one," Hagerty said. Dismissing TPP as impossible to pass in the U.S. senate, he said a bilateral agreement must be agreed quickly so as to avoid U.S. farmers and other businesses being put at a disadvantage. "I think the president will be able to articulate that very clearly when he and the prime minister meet next."
Japan, which has been critical of U.S. tariffs on China amid a growing trade dispute between Washington and Beijing, will also send Trade Minister Hiroshige Seko to the U.S. from Sept. 24. Seko told reporters Friday that he was set to hold talks on WTO reform with his U.S. and European Union counterparts.
Japan has seen overall trade deficits in the past two months, largely triggered by higher oil prices. Its imports of liquefied natural gas from the U.S. climbed to a record high in August, just as sanctions imposed by China are set to make U.S. LNG less competitive in that market.
---
 This article has been previously published on Bloomberg Quint.
---
Stay updated with all the insights.
Navigate news, 1 email day.
Subscribe to Qrius